A class-action lawsuit alleging that Archer Aviation and its top executives misled investors about progress toward certification of its air taxi has been dismissed.
Archer said on 24 October that the plaintiff in the lawsuit had chosen to voluntarily dismiss the case. The suit was filed by law firm Pomerantz, which is an active litigator of class-action suits brought against various companies.
Pomerantz did not comment.
"We are very pleased that the plaintiff has decided to dismiss the case," says Andy Missan, the developer's chief legal officer. "Archer continues to remain focused on delivering on its mission and creating value for shareholders."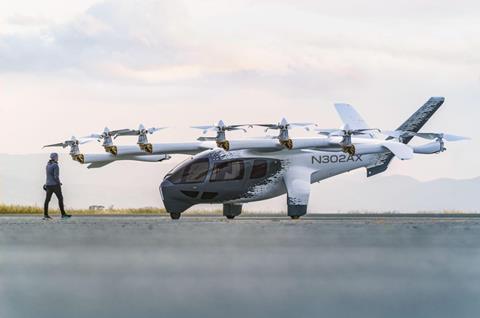 Filed on 21 September in a California federal court, the suit argued that chief executive Adam Goldstein and others misled investors by stating the company's goal of carrying passengers in 2025.
Citing a report from Grizzly Research – a short-selling firm that benefits if a firm's stock price declines – the lawsuit alleges that certification of Archer's Midnight aircraft remains "years away" and that launching commercial operations within the next two years is unrealistic.
Archer denied that allegations and maintained that it would defend itself "vigorously". On 13 October, the San Jose-based air taxi developer filed a motion to dismiss the case, calling the lawsuit "frivolous" and arguing that it "does not even attempt to comply" with US securities laws.
"Plaintiff has hastily accused Archer of fraud without any basis whatsoever," Archer's attorneys argue in the filing. "Like many young companies, Archer was attacked by a short-seller seeking to drive down the price of its stock."
"The effects of these serious – but entirely false – allegations can be all too real for an early-stage, cutting-edge company like Archer," the attorneys add.
Archer is developing its four-passenger, all-electric Midnight with the aim of launching downtown-to-airport routes in major cities as soon as 2025. It plans to begin a certification flight-testing programme next year.