At Collins Aerospace's Singapore service centre in Changi on the eastern part of the island, a robot is helping to dramatically reduce parts inspection time, while boosting accuracy.
Known as the Automated Vision Inspection System, the robot uses optical character recognition to complete inspections in under a minute, a process which typically could take up to an hour if done manually.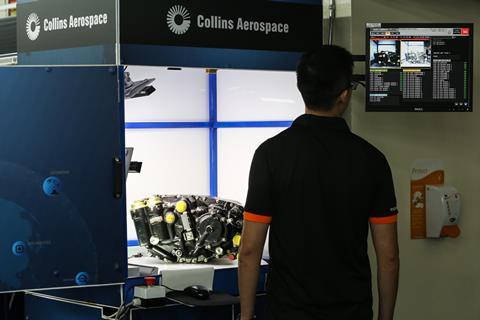 Daven Tey is a regional director at Collins overseeing the aftermarket repair operations and services in Asia Pacific. He says that the inspection robot is something the Singapore team is "very proud of…because we developed this in Singapore".
The Changi facility is Collins' Asia-Pacific headquarters, and provides MRO services, as well as sales support for commercial and military customers in the region. It also houses a full repair and workshop facility, servicing more than 1,000 products within Collins' air transport, business regional, in-flight entertainment and government systems areas.
Tey says one advantage of the robot is that its practical use "is not just limited to a single product". For instance, the aerostructures unit intends to use the robot for other inspection purposes, while another facility is looking at generator inspections with the robot.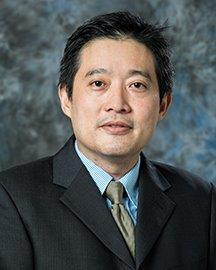 "You can basically programme the robot to pick up any features you want. For example, it can be colours, or height, or orientation. Whatever feature you key in, the repeatability is there, and the machine will keep picking up the same features over and over."
He adds: "If you go back to the manual inspector, sometimes they do miss [certain things] due to, for instance, fatigue. These are human factors that we cannot control."
The Automated Vision Inspection System was fully implemented in the Singapore facility in mid-2019. Tey lets on that the team is in the process of improving the robot to reduce the amount of input required by the end user.
It is among the various technological solutions that originated from Collins' Singapore unit, and is being scaled across other Collins facilities in and around the region.
The Singapore centre also uses RFID technology to manage tool control within the shop floor. In the past, employees needed to manually conduct a tool check in their toolbox after completing a task. The RFID technology eliminates the need to do so, and can help locate missing or misplaced tools in the shop floor, says Tey.
Tey adds that the Singapore facility is a "good candidate" for testing and developing such ideas because of the wide range of services it covers.
GETTING EMPLOYEE BUY-IN
At the onset of development, Tey tells FlightGlobal that there was initial skepticism from employees, who were worried that new technologies would eventually replace their jobs.
"Employees do worry about being [made] redundant and superseded. What we want is real subject experience and expertise. [These] employees are basically skilled to programme and operate these smart technologies; they bring with them expertise and experience with the process itself," Tey adds.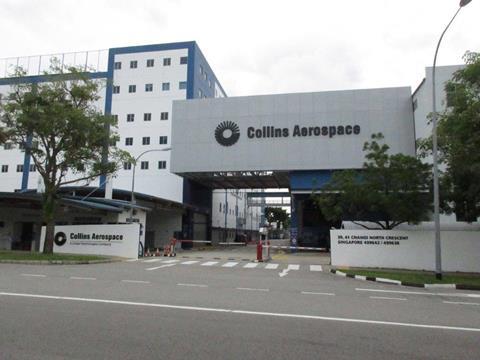 Collins also involves shop floor employees in the development of new technology solutions, says Tey, as they are the ones who know best "where the pain points are" in daily operations.
He notes that once "the acceptance and change management kicks in", and once employees realise the advantages of smart technologies, "demand goes up and [we can] speed up our implementation".
"When the employees see the benefits, that's when they start buying in the whole concept," Tey adds.
Because what he calls "smart technology" was a new and growing area of focus across many industries, there was a bit of challenge in "availability of resources", as well as strong competition in finding talent.
Still, despite the initial challenges, Tey reckons that there are plenty of advantages.
He acknowledges the feedback from employees that overall efficiency has gone up, with updated technology aiding day-to-day operations. That has gone some way towards convincing employees of the advantages of new methods.
PANDEMIC REPRIEVE
The coronavirus pandemic, which itself was another challenge for the team, has its silver lining for new technology solutions. For one, Tey says the pandemic, with its need for social distancing and contactless interactions, is likely to "speed up the demand" for new solutions.
The downturn from the pandemic has also given Collins "some bandwidth" for finetuning how new ideas are applied.
He notes that the aviation industry "is itself a high-tech industry", and that "innovation has always been the heart of aviation".
And while cost conservation amid the current downturn might put some MROs off from adopting new technology, he believes that this will be a temporary phenomenon, and that the industry still "appreciates its long-term benefits".
Using the example of the inspection robot, Tey says such a solution can be easily scaled across the Collins network, which will in turn lead to cost savings in the long run.
"If it was a very myopic solution that is not easily scalable, it will likely be something that will drop off after a few sessions of development," he adds.