Collins Aerospace has started assembling a 500kW electric motor for the Hybrid Air Vehicles (HAV) Airlander 10, and hopes to have the power units flying on the hybrid airship by 2025.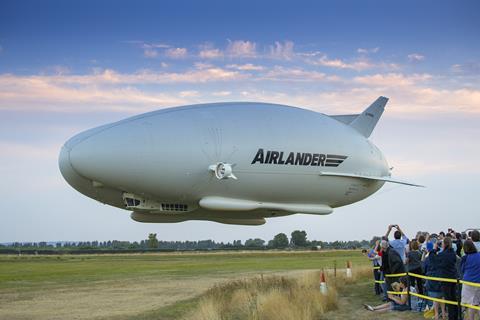 The project, called E-HAV1, is part of an initiative by HAV, Collins and the UK's University of Nottingham to develop a full electric propulsion system for the Airlander 10 by 2030, replacing all four of its Continental Aerospace Technologies diesel engines to create the "world's first zero-emission aircraft".
The initiative has received £1 million ($1.39 million) funding from the UK government's Aerospace Research and Technology programme, and is being spearheaded by Collins' electronic controls and motor systems business in Solihull.
As a first stage, in 2025, the Airlander 10's two forward engines will be replaced by the electric motors, with the twin rear powerplants swapped out five years later. Before that, Collins plans a ground-based demonstration of the motor next year, followed by airborne trials.
Although it has never built engines, Collins has experience in propulsion through its auxiliary power unit business, the former Hamilton Sundstrand, and is now a sister company of Pratt & Whitney under Raytheon Technologies.
It has been working on electric propulsion since early 2017, according to Marc Holme, senior director electronic controls and motor systems. "This is an evolution of that work and a chance to flight trial the technology on a very novel platform," he says.
One of the reasons that the 92m (302ft)-long Airlander 10 makes a suitable testbed for an electric propulsion system – despite its size – is that its aerodynamic design and helium-filled hull provide almost all the aircraft's lift, taking the pressure off the powerplants to deliver propulsion.
Because the technology is scaleable, and Collins owns the intellectual property, the electric motor could be made available to other airframers, "from general aviation down to urban air vehicles", says Holme.
Bedford-based HAV hopes to be building production examples of the Airlander 10 next year, with a target for a maiden flight of the conventionally-powered variant by the end of 2023. The company, which claims to have secured deposits from two unnamed customers, is aiming for certification and entry into service in 2025.
The company previously flew a prototype on several sorties, but abandoned its test programme after two crash landings in 2016 and 2017 in which no one was injured.