Spirit AeroSystems' two UK-based operations turned in a combined loss of almost $250 million in 2022, as cost and supply chain pressures took their toll.
Losses were particularly marked at the firm's Belfast, Northern Ireland unit – the former Short Brothers business – which Spirit acquired from Bombardier in late 2020.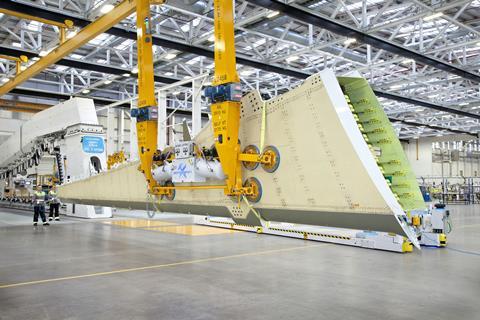 Despite turnover growing to $697 million, up from $598 million in pandemic-hit 2021, pre-tax losses rose to $227 million, against $76 million the previous year, according to accounts published on 10 October.
Detailing the financial performance for the period to 31 December 2022, the Northern Irish firm, which is still registered as Short Brothers, blames a series of a factors for the loss.
"The business continues to face challenging cost pressures in a difficult overall aerospace context," the accounts state.
"In addition to the recovery from the Covid-19 impact, the business encountered increased production rate pressures from supply chain shortages, the highest levels of inflation in more than 40 years, and the Russian invasion of Ukraine."
Notably the company recognised "quantifiable contract exit costs" of $70 million in the year, which were "directly attributable to the Russian sanctions arising from the Russo-Ukrainian war".
A further $1.4 million of "exit costs" related to the end of a programme were also recorded, alongside exceptional items of $23.3 million due to "onerous contract provisions" and a $35 million one-off payment to a key supplier to "ensure the continuity of supply".
However, the accounts add: "Despite the significant uncontrollable challenges detailed above, there were significant positive developments in the year, as air traffic continued to recover [post-Covid] in many parts of the world."
Total commercial deliveries rose year on year to 424, from 370 in 2021, which was "broadly in line with the post-pandemic recovery plan", it says.
"Commercial segment turnover increased overall, driven by a ramp-up on [Airbus] A220 wing deliveries as planned, and an increase in fuselage deliveries."
Besides parts for the Airbus narrowbody programme, Spirit's Belfast unit also supplies structures for Bombardier business jets.
Revenue from wing work stood at $300 million in 2022, against $261 million in 2021, while fuselage assembly brought in $207 million versus $162 million a year earlier.
Commercial revenue accounted for 84% of the total, with aftermarket services contributing a further 15%. However, Spirit says it has a "long-term goal" to increase the revenue contribution of the defence and space segment beyond the current 1% figure.
Meanwhile, the US aerostructures specialist saw its other UK-registered unit – Prestwick, Scotland-based Spirit AeroSystems (Europe) – deliver a loss of £13.3 million ($16.3 million) on revenue of £435 million, against a loss of £26.2 million on £346 million revenue the previous year.
Shipset deliveries to the major programmes served by Prestwick all increased year on year, the accounts note. Airbus is the site's largest customer, accounting for 96% of revenue in 2022, with Boeing's 767 programme representing the remainder.
While Spirit AeroSystems (Europe) uses sterling for its accounts, Short Brothers uses the US dollar.
The US parent continues to support both subsidiaries: on 3 March 2023 it injected $150 million into Spirit AeroSystems (Europe), which the previous month had increased a letter of credit facility for its Belfast sister company, raising it from $300 million to $500 million. A total of $316 million had been drawn as of the end of 2022.
Immediate parent company Spirit AeroSystems Global Holdings also made two capital injections into Short Brothers during 2022: paying $26 million in January and $145 million in April.
For 2022, US stock market-listed Spirit AeroSystems registered a $546 million net loss on revenue of $5 billion.

Dominic Perry is deputy editor of Flight International but also contributes extensively to flightglobal.com. Although specialising in the coverage of the helicopter industry, he has written on most topics in aerospace – be they commercial, defence or business aviation. In addition, there has been an increasing focus on the decarbonisation of the industry and zero-emission flight initiatives.
View full Profile