Cranfield Aerospace Solutions (CAeS) is moving "full throttle" through the detailed design phase on its project to convert a Britten-Norman BN-2 Islander to run on hydrogen fuel cells, as it eyes a first flight of the aircraft next year.
Called Project Fresson – an initiative part-funded by the UK government – CaeS and its partners last autumn acquired a donor airframe from UK carrier Skybus (G-BUBP) for the conversion work; it has since been re-registered as G-HYUK.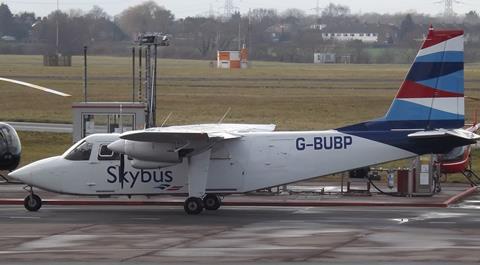 Jenny Kavanagh, chief strategy officer at CAeS, says having completed the preliminary design review in 2021, the team is now working "full throttle" through the detailed design phase to achieve the critical design review milestone by around mid-year.
Bench and ground tests should begin later this year leading to a first flight in early 2023.
However, that is a slight slippage on the previous target for a maiden sortie of late 2022, driven by challenges around thermal management of the fuel cells, says Kavanagh, "which took us a bit of time to work out".
But with the addition of Reaction Engines and its heat exchanger technology to the project in October, she is confident that issue has now largely been resolved.
Although Kavanagh acknowledges that details around its integration are still to be worked out, "the fundamentals of the solution are there".
Originally conceived as a battery-powered conversion for the nine-seater, CAeS in May 2021 announced the shift to hydrogen fuel cells. That saw several partner companies, including Rolls-Royce, leave the project, to be replaced by engineering consultancy Ricardo which will deliver the fuel cells and the balance of plant required for their operation.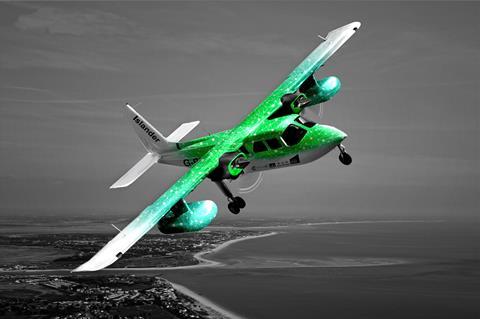 A fuel cell provider has yet to be announced but Kavanagh says "discussions are ongoing" with a preferred supplier, which she hopes will be concluded shortly.
Denis Feranti Group was previously named as the supplier of the Islander's electric motors but it is unclear if the company remains involved.
Service entry of a certificated retrofit or line-fit system is now anticipated in 2025. "The important thing is to create a sense of urgency; 2027 is not soon enough," she says. "We think it's do-able, that's why we are going for it."
While the initial system is sized for a nine-seat aircraft, CAeS is already looking at retrofit solutions for a 19-seater, or even a clean-sheet aircraft to use the technology. And ultimately a fuel cell-powered aircraft that can carry 50-100 people is envisaged.
"Our ambition is to be an airframer – we want to design a new aircraft," says Kavanagh.
UK budget carrier EasyJet recently signed an agreement with CAeS to offer an operator's perspective on how zero-emission technology could be integrated with airline operations. It joins Scottish regional carrier Loganair in that advisory role, and Kavanagh says she is hopeful that additional airline partners can be brought on board this year.
Announced in November 2019, Project Fresson was awarded a £9 million ($12.3 million) grant from the Aerospace Technology Institute, to be matched by industry, for the work.