Spanish electric aircraft specialist Dante Aeronautical and London-based finance house Monte Aircraft Leasing are to collaborate on the development of hydrogen fuel cell powertrains for sub-regional turboprop aircraft.
Through the partnership, the pair will offer finance and conversion packages for the retrofit of the zero-emission powertrain to existing aircraft operators.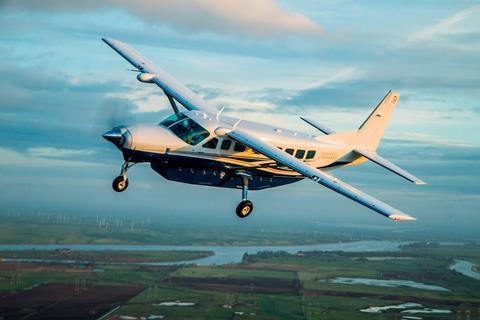 That activity is expected to begin in 2024 with the conversion of Cessna Caravans. They will use a hydrogen fuel cell system to power the cruise phase, augmented by batteries to provide a boost during the take-off and climb.
Under Dante's plans, it will house the fuel cells and hydrogen tanks in the sub-fuselage cargo bay, with the motor and battery replacing the standard turboprop engine in the aircraft's nose.
An all-electric version of Dante's system, which uses batteries and a Magnix motor, is currently being tested by Australian operator Sydney Seaplanes.
Additionally, the partners will offer financing for ground infrastructure such as battery and fuel cell storage, and charging equipment.
Monte is the "clean technology, green transportation finance" operation of Montrose Global Aircraft Management.
Montrose has several regional turboprop types on its books, including Grand Caravans, 19-seat Viking Air DHC-6 Series 400 Twin Otters, De Havilland Canada Dash 8-400s, and ATR 42-500s and -600s.