From pushing for driverless cars to unmanned delivery drones and hydrogen-powered buses, Dubai has long seen itself as a pioneer in disruptive transport. So too with urban air mobility (UAM), where the emirate has made several announcements over the years that would establish it as one of the earliest adopters of an electric air taxi network.
As long ago as 2017, German electric vertical take-off and landing (eVTOL) aircraft developer Volocopter and EHang of China conducted flight trials over the city. Dubai's Road and Transport Authority (RTA) even declared a plan to launch air taxi services in July that year using EHang's single-passenger 184 design.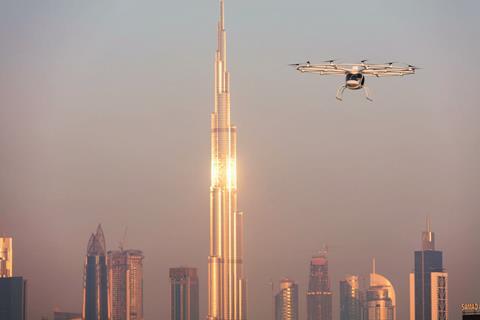 While the rather inevitable funding and certification schedule delays for eVTOL platforms – not to mention a pandemic – put paid to such early enthusiasm, the announcements have kept coming. In April 2022 Abu Dhabi's Falcon Aviation Services said it intends to launch eVTOL flights from the Atlantis hotel on The Palm in 2026, using up to 35 eVTOL aircraft from Embraer spin-off Eve Air Mobility.
This year has seen the focus turn to vertiports, the landing areas and passenger facilities needed for eVTOL air taxis to operate. In April, Skyports, partnered with architect practice Foster & Partners, unveiled proposals for a vertiport at Dubai International airport – one of four locations around the city the RTA is considering. The design would allow passengers to connect to the airport's terminals.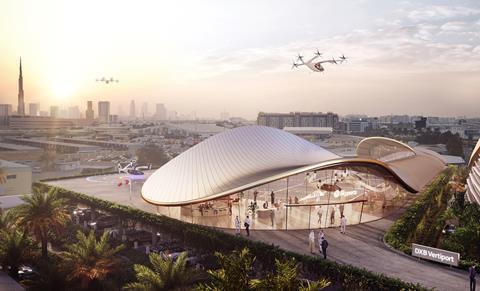 Meanwhile, rival VPorts is behind plans for "the world's first UAM integrator centre" next to Dubai's second airport, Al Maktoum International, which it hopes to begin building in 2024. Montreal-based VPorts also this year signed an agreement with the emirate of Ras Al-Khaimah to build a vertiport at the airport there, and plans a vertiport in Dubai's neighbour Sharjah.
After a 25-year career in airport development, Fethi Chebil founded VPorts in 2021. He says setting up a vertiport is about more than simply building a landing pad. "There have to be charging facilities, probably a hangar and a technical room, firefighting, and integration with air traffic control," he notes. "If people are flying international, there has to be police and immigration."
URGENT CARGO
In contrast to many UAM evangelists, Chebil does not believe passenger air taxi services are imminent. Instead, he thinks the initial business case for eVTOL platforms will be for light, urgent cargo, including parts used in just-in-time manufacturing or repairs. "Although payloads will only be a maximum 500kg [1,100lb], they will be faster and more reliable than trucks," he says.
Chebil believes "a lot of money is going into eVTOL development and not so much into ATM and airport integration. We are positioning ourselves to be ready for that."
The company plans vertiports in Sao Paulo – one of the few cities that has a thriving VIP helicopter scene – as well as Montreal and Syracuse, New York, where VPorts hopes to establish a cross-border air freight corridor.
However, he believes Dubai will remain a prime mover in the emerging sector, and that is why VPorts is focusing its attention there. "The government is very progressive when it comes to technology, and pushing UAM," he says. We are leveraging that."