Dutch researchers have concluded that the operation of small sub-regional electric aircraft on short routes in the Netherlands should be possible by 2026.
Airports consultancy NACO – part of Royal HaskoningDHV – and the Royal Netherlands Aerospace Centre (NLR) were commissioned by the Dutch infrastructure ministry to draw up a roadmap for the introduction of electric flight in the Netherlands and its overseas territories.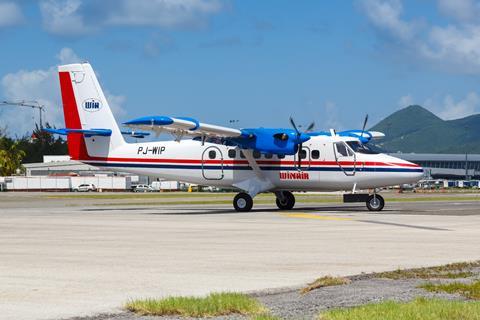 Basing their study on flight and passenger data from the so-called "ABC islands" – the Dutch Caribbean territories of Aruba, Bonaire and Curacao – the researchers were able to model the potential introduction and cost of electrification.
Their calculations suggest that operations using a three-strong fleet of nine-seat electric aircraft would be feasible on the islands from 2026. Three 19-seaters would be added from 2030, followed by three more of each type by 2035.
Initially, each island's airport would have a single charging station, but by 2035 that would rise to four per airport, the study's scenario suggests, at a total cost per facility of €4.7 million ($5.2 million).
By 2030, the six aircraft fleet would be able to handle 50% of inter-island movements, using 2019 data as a baseline, with that figure growing in line with the fleet.
"Ultimately, in 2035, the aviation sector will have learned from operating electric aircraft for almost 10 years. Therefore in 2035, it is expected that scaling up will be possible. The aircraft pool will be doubled compared to 2030. This number of electric aircraft will be able to cover all air movements between the islands [based on] 2019," says the report.
Running in a 190km east-to-west line off the coast of Venezuela, the islands are served by local operators Divi Divi Air, EZ Airlines and Winair, using a mix of legacy aircraft types including nine-seat Britten-Norman BN2 Islanders, and 19-seat Viking Air DHC-6 Twin Otters and Beechcraft 1900Ds; longer stages or connections with the mainland are flown by an ATR 42 or Bombardier CRJ200.
But, the study notes, 91% of the movements from Bonaire were carried out by nine or 19-seaters, carrying 81% of the total 78,000 passengers recorded in 2019.
"The point-to-point character of the connectivity and at the same time the short distances make it very suitable for the introduction of electric aircraft. The inter-island connections have great potential to be replaced by electric nine- and 19-seaters once the necessary infrastructure is there," the study says.
Obstacles to the uptake of electric aircraft include aircraft development and approval of novel powertrains.
"Uncertainties to achieve this timeline are the certification processes and upscaling production. Prolonged certification processes are costly for the OEMs; getting enough funding may be challenging too.
"For airlines, it may be not profitable yet to fly electric aircraft in the early years. Taking this first step of investing in electric aircraft might be difficult, resulting in a delay of the whole transition." Based on publically available price information, the study says the up-front cost of an electric aircraft will be around €1 million more than a conventional-fuelled equivalent, but operating and maintenance costs should be significantly lower.
In addition, the installation of supporting infrastructure, such as charging stations and the capacity for the generation of green electricity is vital: net-zero flights will only be possible if the energy comes from sustainable sources, it says.
Based on the report, researchers say they are better able to map out the possibility for electric aviation elsewhere in the Netherlands.
The country has a stated goal of introducing 50-seat hybrid-electric passenger aircraft by 2030 and by 2050 all short-range flights of up to 270nm departing the Netherlands should be electric.
But to achieve the widespread introduction of cleaner aviation, collaboration between all stakeholders will be vital "as the implementation of electric aircraft involves a system change in which everyone needs to act".
In addition, to achieve the 2026 deadline, work on a raft of issues needs to start now, it says.
Martin Nagelsmit, head of the sustainability and environment department the NLR, says: "With our fully electric Pipistrel Velis Electro, we have already shown that electric flying is possible. At the moment, this only applies to small aircraft and over short distances.
"The challenges also lie on the ground and in policy and legislation, as we now experience almost every day. In addition to electric flying, even more is needed to make aviation more sustainable.
"There is not one holy grail that solves the climate impact caused by the current generation of aircraft. To adequately tackle the entire spectrum, we must focus on various solutions, such as hydrogen propulsion, sustainable fuels and even more efficient aircraft and operations."