Daher has been cleared to next year begin assembling the hybrid-electric EcoPulse demonstrator it is developing in partnership with Airbus and Safran after the aircraft passed its preliminary design review (PDR).
First flight of the EcoPulse is scheduled for 2022. It features six Safran-supplied 50kW electric motors on the wing, plus a conventional turboprop engine in the nose, which doubles as a turbogenerator.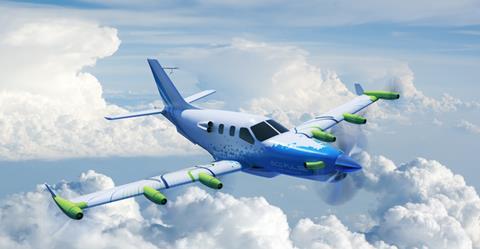 Unveiled at the 2019 Paris air show, the programme is backed by France's CORAC civil aviation research council; governmental support was underlined as part of the French government's aviation rescue plan in June.
Under that initiative, Paris is keen to promote projects that will enable the commercial aviation industry to cut greenhouse gas emissions in future. EcoPulse, the partners argue, lays out "the framework for light aircraft by the end of the decade".
EcoPulse is based on a Daher TBM airframe, and the successful conclusion of the PDR has enabled the demonstrator's baseline configuration to be frozen. In addition, it confirmed "the hybrid distributed propulsion system's level of safety and compatibility with the aircraft."
Final assembly will take place at Daher's Tarbes site in late 2021, with a maiden sortie the following year.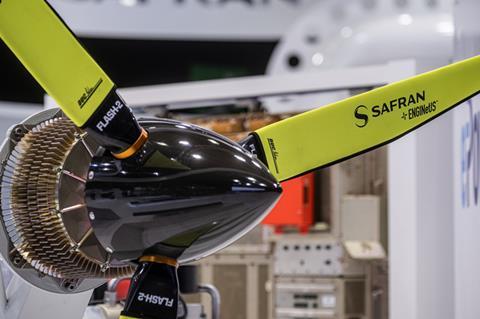 Safran has validated the electric thruster configuration, along with installation interfaces, the power management system and high-voltage wiring. Additional tests are due on the turbogenerator, which performed its first bench runs in 2018.
An initial thruster – the motor, propeller and nacelle – will be supplied to Airbus to enable wind tunnel and endurance testing to begin in the first quarter of 2021. The evaluations will analyse the propeller's performance when coupled to an electric motor, plus the heat management of the engine.
"EcoPulse is an ambitious project, and designing hybrid propulsion on this new aircraft architecture is a key skill that Safran is proud to master," says Stephane Cueille, senior executive vice-president and chief technology officer, research and technology and innovation at Safran.
Jean-Brice Dumont, executive vice-president, engineering, at Airbus, adds: "The EcoPulse demonstrator programme, initiated by CORAC with the support of the French DGAC civil aviation agency, is an important step in our ambition to decarbonise the aeronautical industry. It will allow us to study how distributed hybrid propulsion could be integrated into the aircraft of tomorrow and significantly reduce their environmental impact."