China's EHang has completed flight tests for its EH216-S electric vertical take-off and landing (eVTOL) aircraft, paving the way for type certification from Chinese regulators, and subsequent commercial service.
The Guangzhou-headquartered company says it has wrapped up planned tests and flights "in the last phase of demonstration and verification of compliance".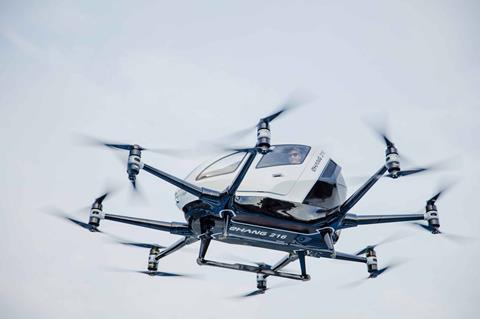 The "significant milestone" comes more than two years since the Civil Aviation Administration of China (CAAC) accepted its application for type certification. EHang reiterates its target of clinching certification "soon", but did not elaborate further.
EHang founder, chairman and CEO Huazhi Hu says: "This achievement marks a significant unprecedented milestone in the global emerging eVTOL industry, underscoring our unwavering dedication and pioneering advantages. Additionally, this sets the stage for us to secure the type certificate soon and proceed with our endeavours to initiate commercial operations."
The company has clinched commitments for its EH216 passenger-grade eVTOL from unnamed operators in Asia, including in Japan and Indonesia.