Chinese electric vertical take-off and landing (eVTOL) company EHang aims for Civil Aviation Authority of China (CAAC) type certification for its EH216 aircraft this year, as it builds out its early user base.
As of the end of 2022, the company has sold 185 two-seat EH16 aircraft, which is still regarded as an experimental vehicle, according to company director Nick Yang.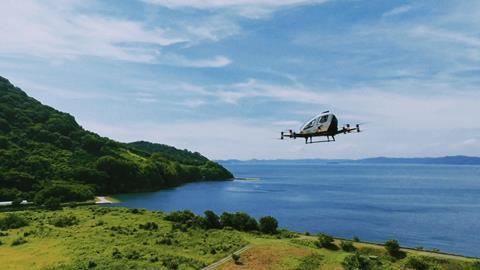 The main users of the aircraft are resort operators in leisure locations. They are not allowed to sell tickets, but passengers can still fly provided they sign a waiver acknowledging the experimental nature of the vehicle.
"Customers are all over the place, and each customer has maybe taken one or two," says Yang. "It's not a big batch, but customers usually want to order at least 10. They have a lot of appetite."
The company also has over 100 orders for the EH216-S in China. In addition, the company has over 1,200 pre-orders internationally for the EH216 and the longer- range VT-30, which features wings and eight electric motors.
The fully autonomous EH216 features eight underslung booms with a contra-rotating electric propeller at each tip, for a total of 16 electric motors. The aircraft's maximum payload is 220kg (485lb), with an endurance of 25min and a range of 16.2nm (30km). The EH216 can be fully charged in two hours.
Yang says that the company also aims to start selling the EH216 to individuals in suburban areas. The aircraft, which is fully autonomous, will be based at heliports operated by partners. Owners can call ahead for the vertiport team to prepare their aircraft for flights. Yang compares it owning a weekend yacht.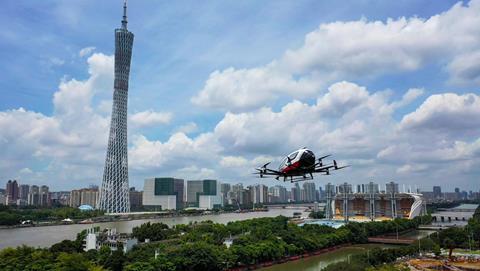 He puts the price point at $302,000. "It's about the price of a Porsche, and half the price of a Ferrari," says Yang.
Before operators can use the aircraft, EHang uses a small UAV to establish pre-set routes, looking for obstacles as well as emergency landing ears. When an operator decides to take a flight, he simply selects one of several pre-set routes.
Yang adds that the CAAC has been very cooperative in the certification process, providing timely feedback to the company. He believes the company is "ninety percent" of the way to certification before the end of 2023. Beijing sees Advanced Air Mobility (AAM) as a key technological area.
It will be some years, however, before AAM eVTOLs fill the skies above Chinese cities, as the CAAC and the Chinese public will need to acclimate to the new technology.
Following type certification, Yang foresees the EH216 mainly operating in leisure destinations or 2-3 years. Following this, it will move on to providing ferry flights, such as between Hong Kong and Macau. In seven to 10 years, Yang expects eVTOL to start becoming part of the urban landscape.
Yang adds that CAAC certification will also set the stage for certification in overseas markets, such as Southeast Asia and the Middle East.
Sales and order numbers updated to reflect revised information from company.