Indonesian private jet charter firm Prestige Aviation has signed a pre-order for 100 passenger-grade electric vertical take-off and landing (eVTOL) aircraft from EHang, marking the Chinese company's single largest order so far in Asia.
The commitment, disclosed at the Indonesia International Motor Show 2022, will add to Prestige's single EHang EH216 eVTOL.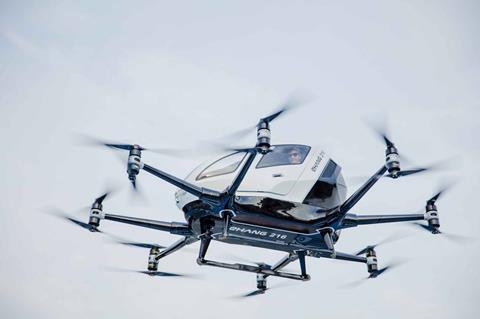 It also comes as Indonesia eyes opportunities in developing urban air mobility, particularly in its new capital Nusantara. Chairman of the Indonesian People's Consultative Assembly Bambang Soesatyo says: "[We] hope to explore more possibilities to facilitate the implementation of UAM in Indonesia, and to seek breakthroughs in infrastructure, airworthiness certification, and other related fields."
Adds Prestige executive chairman Rudy Salim: "Indonesia is an archipelagic country with more than 17,000 islands within its borders. Therefore, a new transportation mode that can facilitate inter-island mobility will undoubtedly help regional economies to grow exponentially, assisted by its low cost when compared to other conventional land routes."
Other Asian operators who have committed to EHang's EH216 include Malaysia's Aerotree Flight Services, as well as Japan's AirX.