Chinese urban air mobility firm EHang has entered into a partnership with Shenzhen officials for the commercial operation of its EH216 electric vertical take-off and landing (eVTOL) vehicle.
Following the signing of a memorandum of understanding with the Bao'an district government on 13 July, EHang has disclosed plans to launch aerial sightseeing services with its passenger-grade eVTOLs in the city.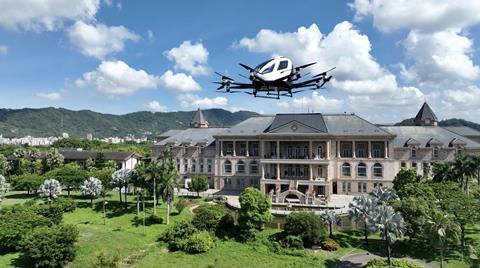 Under the partnership, the district government will provide "comprehensive support" for areas such as procurement, leasing and infrastructure construction.
For its part, EHang is set to build a assembly and delivery centre, a testing centre as well as a maintenance facility in the district as it builds up its local presence.
According to deputy district mayor Meng Jinjin, both EHang and the district authorities are hoping to roll out more than 10 routes by the end of the year. Bao'an is predominantly an industrial hub focusing on the aviation sector.
EHang also touts the area's "robust manufacturing foundation and well-established supply chain" which it says are "strong advantages" for the urban air mobility sector.
Says Meng: "Bao'an District has been committed to providing a favourable market environment and policy framework for enterprises in the low-altitude economy industry and highly values the innovative development of the new aviation industry."
In an interview with FlightGlobal in May, EHang director Nick Yang says he expects type certification for the EH216 aircraft this year.
It has over 100 orders for the EH216-S in China, along with over 1,200 pre-orders internationally for the EH216 and the longer-range VT-30, which features wings and eight electric motors.