Elbit Systems is offering the prospect of round-the-clock airborne firefighting after demonstrating a method of dropping liquid pellets from 500ft – more than four times higher than the normal altitude for water bombing.
The Israeli company claims its Hydrop system allows crews to operate safely at night for the first time. Most aviation authorities ban low-altitude water drops during darkness for safety reasons.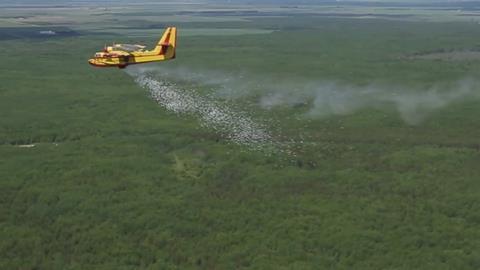 However, dispersing liquid from above around 100ft in the conventional way diminishes its effect as much of the water evaporates before reaching the ground.
Elbit carried out its demonstration with the Israeli firefighting squadron late last year, using two of the squadron's Air Tractor AT-802F aircraft. A total of 1.6t of 140g biodegradable liquid pellets were released over a burning field in a "computed ballistic trajectory". It says the exercise achieved "a precise hit", with saturation of between 1 lit (0.26USgal) and 2 lit.
The pellets are housed in an airborne dispenser, and produced by a machine at the rate of 10t an hour, says Elbit. They can be filled with water, foam, or fire retardant.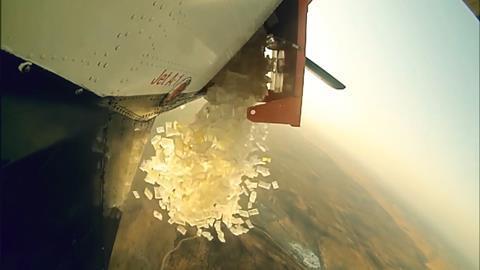 Yair Ganor, senior director, aerial firefighting solutions, says that, in normal circumstances, operators must fly at around 20m or 30m above a wildfire for water bombing to be accurate and effective. "But your options for flying low at night are very limited because of civil aviation rules. Wearing night-vision goggles is an option, but there are safety issues and other complications," he says.
According to Ganor, the system is compatible with most rotary and smaller fixed wing firefighting platforms, including the Sikorsky Black Hawk and Boeing Chinook. "Basically, it works with anything that can take a 3t payload," he says.
Israel's Aerial Firefighting Unit was established in 2011 after devastating fires in December 2010 around Mt Carmel in northern Israel that claimed 45 lives. It operates 14 Air Tractor aircraft, each capable of holding 3,000 lit of water. Command of the unit transferred from the air force to the police in 2016.