US hybrid-electric aircraft developer Electra's short take-off and landing EL-2 Goldfinch prototype has gotten off the ground for the first time.
The start-up's 11 November first flight at Manassas Regional airport in Virginia was brief and all-electric, while its second, 23min flight on 19 November engaged the aircraft's hybrid propulsion system, reaching an altitude of 3,200ft and covering 26nm, Electra said on 20 November. Both sorties were flown by lead test pilot Cody Allee.
"This airplane was flown from day one with a pilot on board, which set a high bar for the safety of flight," says JP Stewart, Electra's general manager, in a social media post. "The flights were exceptionally smooth and I can't wait to show more of what this airplane can do."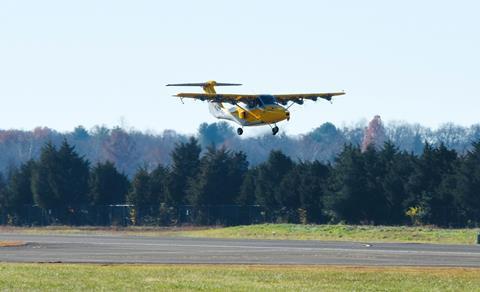 The first flights demonstrated the aircraft's "blown lift" design, which enables lift at relatively low speeds.
The company says its eventual production aircraft – seating two pilots and nine passengers – will be capable of taking off on a runway as short as 45m (150ft) and reaching speeds of 322km/h (200mph). That aircraft will be targeted at travel between 80km and 800km, a range where "most trips today are made by automobile", the start-up says.
The proposed aircaft's hybrid-electric power system "provides long ranges without the need for ground-based charging stations," adds founder and chief executive John Langford.
"It will bring air service to thousands of communities where air travel today is not a practical or affordable option," he says. "It also opens vast new opportunities for middle-mile cargo logistics."
Unveiled during the Paris air show in June, the two-seat Goldfinch "is the world's first blown-lift aircraft using distributed electric propulsion and a hybrid-electric propulsion system", Electra says. "The aircraft uses eight electric motors to significantly increase wing lift and enable ultra-short take-offs and landings, while dramatically reducing noise and emissions below those of conventional aircraft and helicopters."
The flight-test programme with Goldfinch will inform the engineering and aerodynamic design of Electra's full-scale production prototype, which it plans to develop with $85 million of funding through the US Air Force's AFWERX Agility Prime programme.
Electra says it is pushing for certification from the Federal Aviation Administration in 2028, about eight years after the company's formation, and claims pre-production orders for some 1,700 short take-off and landing aircraft.