Hot on the heels of the December launch of a powertrain business, UK technology firm Electric Aviation Group (EAG) has set up its second spin-off, this time focused on the development of megawatt-class hydrogen fuel cell systems.
Called Smart Megawatt Stack Fuel Cell Systems (SMS), its creation was spurred by the need for the "enabling technologies" to allow EAG to develop a 90-seat zero-emission aircraft it calls H2ERA.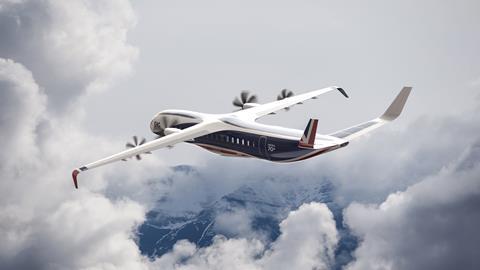 "We either wait for someone else to mature the technology or take the initiative and develop our own," says Kamran Iqbal, founder and chief executive of EAG.
SMS's founding team includes four fuel cell experts from Imperial College London: Professor Nigel Brandon is chief engineer, Professor Anthony Kucernak is chief scientist, Dr Billy Wu is head of design, and Dr Huihzi Wang is head of simulation and analysis.
Prof Brandon was previously appointed as non-executive director of EAG on 15 July 2021.
SMS is currently working to finalise a production location in the UK, says Iqbal, although he provides no further information.
Although the MW-sized fuel cell stacks envisaged by SMS will be suitable for a range of transport applications, the company's initial focus is on aviation.
No details of the proposed timeline for the development of such a system were released, however.
Companies House documents show that Iqbal is the sole director of SMS, with all 100,000 shares held by EAG.
Hydrogen Hybrid Electric Propulsion Systems – the business set up in December in partnership with the University of Nottingham – has the same directorship and ownership structure.