Elroy Air's autonomous turbogenerator-hybrid electric vertical take-off and landing (hVTOL) cargo drone Chaparral C1 has flown for the first time.
The craft flew on 12 November at northern california's Byron airport, east of San Francisco, where Elroy's flight test operations are based. The craft took off vertically, flew for 57 seconds and landed safely, Elroy said on 16 November.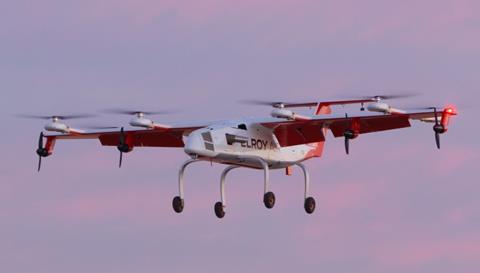 "This is an exhilarating day for our team and the industry as a whole," says Elroy Air co-founder and chief executive Dave Merrill. "In 2017 we had an unconventional idea to develop an autonomous long-range VTOL aircraft that would fill a major capability gap for middle-mile express shipping, humanitarian logistics and military resupply. On Sunday, our Chaparral C1 became the first turbogenerator-hybrid electric hVTOL aircraft to take flight."
The feat, he adds, "puts Elroy Air one step closer to delivering a transformative logistics capability to our customers and partners".
The Chaparral C1 is capable of lifting 136kg (300lb) of cargo and transporting the load across ranges up to 260nm (482km).
"The team at Elroy Air has achieved an exciting milestone with the first flight of their Chaparral aircraft," adds Mark Esper, former US secretary of defense and Elroy Air board member. "Their work to enable autonomous cargo delivery for the resupply of troops in the field will create a game-changing capability for supporting and sustaining the United States military and allied forces in future campaigns." The company holds three active contracts with the US Air Force.
Elroy says the drone's capabilities "address an urgent operational need for logistics in contested environments where today's alternative is dangerous resupply missions using expensive crewed aircraft".
Last month, the company said it has orders for more than 1,000 vehicles. It had previously secured commitments from companies in the commercial, defence and humanitarian markets including Mesa Airlines, Bristow and FedEx.
"The demand backlog for Elroy Air's Chaparral systems now represents multiple years of scaled production, and early deployments are expected to prioritise defence and operations outside the United States," the company said at that time.