Embraer and GKN Aerospace are to collaborate on development and integration of a hydrogen fuel cell powertrain that could result in flight tests aboard one of the Brazilian airframer's jets.
Announced at the Paris air show today, the partnership brings together two companies which have a "really good directional alignment" on their strategies for zero-carbon aviation, said GKN chief technology officer Russ Dunn.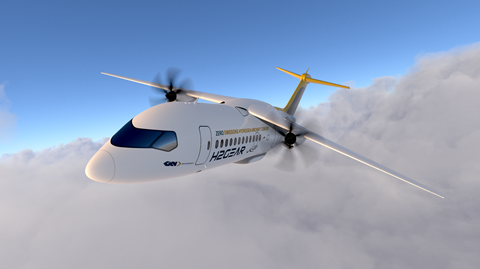 GKN has been developing a 1MW-class fuel cell powertrain under the UK government-backed H2GEAR programme, which will result in full systems tests by 2025.
Initially targeted at the sub-regional market for 19-seat aircraft, the UK firm believes it can be scaled up to power an aircraft with at least 90 seats.
Embraer, meanwhile, has been working on future low-emission aircraft concepts under its Energia programme, including 200nm-range 19- and 30-seat fuel cell-powered models that could enter service in 2035.
"We always wanted to find a partner to move from a ground-based demonstration to a flight demonstration," says Dunn.
"We are now more and more confident about the capability of our system to move much more towards regional aircraft – Embraer is an absolutely ideal partner."
Dunn says he has seen "fantastic engagement" in the project from the Dutch and UK governments and is hopeful of securing financial support from both to advance the initiative. Flight testing would take place in the Netherlands, he says.
No decision has been taken on which Embraer aircraft the powertrain would be tested on: "There are options we have discussed," he says. "But there is more work we need to do together."
Dunn envisages testing the propulsion system throught a podded solution on the aircraft, with its existing engines remaining in place.
Flight tests would take place in the 2028-2029 timeframe to mature the technology for service entry in the mid-2030s, he says.

Dominic Perry is deputy editor of Flight International but also contributes extensively to flightglobal.com. Although specialising in the coverage of the helicopter industry, he has written on most topics in aerospace – be they commercial, defence or business aviation. In addition, there has been an increasing focus on the decarbonisation of the industry and zero-emission flight initiatives.
View full Profile