Embraer has delivered the first Praetor 500 midsize jet, handing over the aircraft to fractional business jet ownership company Flexjet.
The milestone comes just two months after Cleveland-based Flexjet ordered the aircraft as part of a $1.4 billion deal with Embraer.
That deal included 64 aircraft, among them Praetor 500s, Praetor 600s and light jet Phenom 300Es.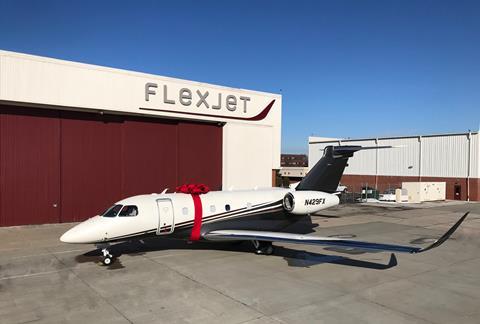 "We have long been partners with Embraer, helping to launch aircraft such as the Legacy Executive, the Phenom 300 and the Legacy 450," Flexjet chief executive Michael Silvestro says in a media release. "Now we take the next step in that relationship, making the Praetor 500 — the most technologically advanced aircraft in its category — available to Flexjet owners first."
Embraer launched the Praetor programme, which includes the nine-passenger 500 and 12-passenger 600, in 2018. The aircraft are upgraded variants of Embraer's Legacy 450 and Legacy 500.
Praetors can carry more fuel than their Legacy siblings, and the new jets have Honeywell HTF7500E turbofans, which produce 500lb-thrust (2.23kN) more than the Legacy's HTF7000s, Embraer has said.
Flexjet says the aircraft are similar enough that Legacy can be converted to Praetors.
With four passengers, the Praetor 500 has range of 3,340nm and the 600 has 4,018nm range. That compares to the Legacy 450's 2,904nm range and the Legacy 500's 3,125nm range, according to Embraer.
Embraer delivered the first Praetor 600 in late June.