Embraer's latest market outlook forecasts 11,000 aircraft deliveries in the up-to-150-seat segment during the 2023-2042 period, with the airframer's E195-E2 well-placed to meet strong demand for types covering the upper end of the range.
Outlining the airframer's projections at the Paris air show on 20 June, Embraer Commercial Aircraft chief executive Arjan Meijer said regional aircraft would "complement narrowbodies, improve regional connectivity around the world, improve the flexibility of fleets and last, but not least, reduce emissions" over the next 20 years.
Meijer particularly highlights the demand potential from moves by operators of Airbus and Boeing narrowbodies to add regional types to their fleets, citing Scoot's and SalamAir's recent orders for E-Jet E2s as an example of a developing trend.
"If you go through a little bit of complexity with adding a new type, the E2 is great aircraft to do that; it has tremendously low unit cost and offers a nice gap to narrowbodies to play with from a network perspective," Meijer states.
He also says that while E2 jets are spearheading the airframer's offering, the previous-generation E175 "is still a great aircraft – we will build it as long as we have demand".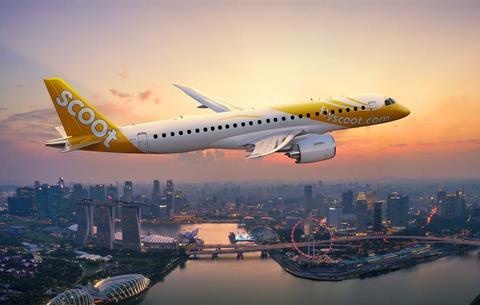 Expanding on the forecast numbers, Meijer says the 11,000 units would be split between 8,790 jets and 2,210 turboprops, with a total value of $650 billion.
Around 6,500 of those aircraft would be in the 100-150-seat segment, which Meijer notes bodes well for Embraer's E195-E2 jet.
Some 43% of the deliveries would be for growth purposes and 57% for replacement of existing aircraft, Embraer forecasts, based on an average annual global passenger volume increase of 3.2%.
In terms of deliveries by region, Asia-Pacific leads with 29% of units, followed by North America at 28%, Europe at 26%, South America at 9% and the Middle East and Africa at 8%.