Embraer has signed a memorandum of understanding (MoU) with SIA Engineering's Philippines unit (SIAEP) to explore MRO opportunities for the airframer's E-Jet E2 family aircraft.
Embraer says the non-binding agreement, signed during the MRO Asia-Pacific event in Singapore on 28 September, "lays a good foundation" for "further support" of the E2 family.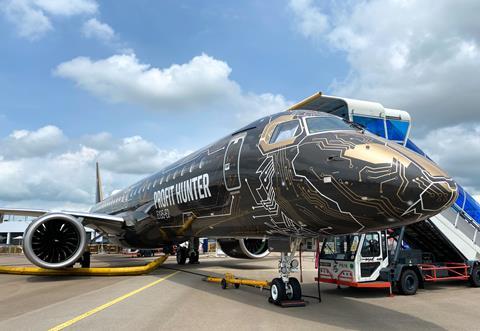 SIAEP is already an authorised service centre for Embraer's first-generation E-Jets in the Asia-Pacific region, having provided maintenance support for the regional jets since 2017.
The announcement comes as the Brazilian airframer prepares to deliver the first of many E2s next year to Southeast Asian operators Scoot and SKS Airways of Malaysia.
Both carriers this year announced commitments to the E2 regional jets, with Scoot signing a lease for nine E190-E2s, and SKS taking 10 E195-E2s on lease.
On 26 September, Scoot also signed a component pooling agreement with Embraer for its incoming fleet.
SIAEC, HONEYWELL EXPAND COMPONENT PARTNERSHIP
Separately, SIAEC's component joint venture has renewed and expanded its partnership with Honeywell for the repair of the latter's aircraft parts.
The additional licences awarded to Asia-Pacific Aircraft Component Services (APACS) cover Honeywell's pre-cooler control valves, as well as its air data inertial reference unit.
APACS will provide repair services for a seven-year period for control valves found on Boeing 737 aircraft. The air data inertial reference unit contract spans 10 years and covers Airbus aircraft.
Honeywell also extended a partnership agreement with Chinese MRO provider Ameco for MRO work on its auxiliary power units (APUs). The two companies have been working together since 2009 under an APU MRO partnership.
"With this global authorisation license, Ameco will be able to access technical and material support from Honeywell when providing auxiliary power unit maintenance services to international and domestic third-party customers in the future on the 331-500 APU," Honeywell says.