Private urban air mobility (UAM) provider Halo has become the launch customer for Embraer's Eve electric vertical take off and landing (eVTOL) aircraft, after it ordered 200 examples.
Disclosing the order on 1 June, Embraer states that the first aircraft is expected to be delivered in 2026.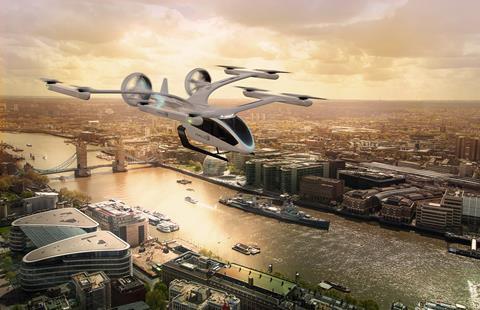 The order comes as part of a broader partnership between Eve, the independent UAM unit of the Brazilian airframer, and Halo, a helicopter and UAM travel provider in the US and UK. Both companies will also be working to develop eVTOL operations in Halo's markets of the US and UK.
"Beyond the initial order and collaboration to develop a new eVTOL operation, Eve and Halo will also partner on the continued development of Eve's Urban Air Traffic Management system as well as the fleet operations and services product offerings that Eve offers as an ecosystem integrator for UAM operations," adds Embraer.
So far, London has been identified a key market for eVTOL operations — Eve and Halo will tap into the UK Civil Aviation Authority's "innovation sandbox" programme to build up operations in the city.
Says Kenneth Ricci, principal of Directional Aviation, an investment fund which Halo is part of: "We believe Eve has designed an aircraft that is well-prepared for not only initial certification but also has a proven track record of production."
Adds Ricci: "The relationship between Embraer and Eve will create one of the most successful global product support infrastructures in the industry. Finally, the work that Eve and Embraer have completed around their traffic management system is just one more example of how uniquely positioned Eve is to help us deliver on our vision."
Eve has been making progress in its eVTOL concept — last July it completed the first flights of its engineering simulator. This was followed by the unveiling of its proof of concept in October.