Europe and Singapore have updated their bilateral working agreement, allowing Singapore aviation companies get speedier approval to use new and emerging technologies, such as electric-vertical take-off and landing (eVTOL) aircraft.
The European Union Aviation Safety Agency (EASA) and the Civil Aviation Authority of Singapore (CAAS) say the amendments, announced on 4 December, will allow both regulators "to collaborate on facilitating aviation innovations", including on eVTOL aircraft technology.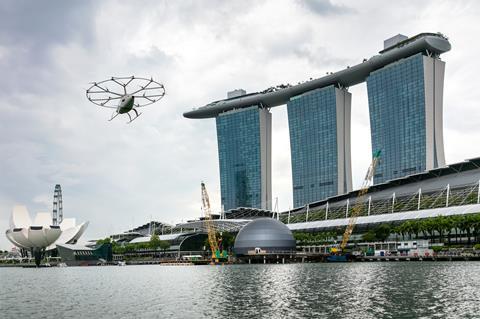 Under the updated working agreement, CAAS will be able to validate EASA design approvals concurrently, and in close coordination with its European counterpart's type certification processes. In the past, CAAS could only validate the design approval once EASA has issued type certification.
"It will help aviation companies in Singapore to innovate and benefit from rapidly developing aviation technologies," the two agencies said in a joint statement.
EASA executive director Patrick Ky says the updated arrangement will help the industry to launch their products more quickly and easily in important markers outside of Europe, including Singapore.
CAAS director-general Kevin Shum adds that the arrangement will "help to develop Singapore as a centre of excellence for the aviation sector".
Singapore has been actively exploring opportunities in the emerging aviation technology sector, particularly in eVTOL aircraft. In October 2019, European urban air mobility company Volocopter flew its first manned test flight over downtown Singapore, kicking off its efforts to bring commercial air taxi services to the city-state.
The CAAS has in recent years also earmarked "drone estates" in western Singapore, to pilot unmanned aircraft systems technologies.