Aviation executives have called for more government support to help the sector meet its target of reaching carbon neutrality by 2050.
Support and regulation to ensure an international level-playing field are especially required to significantly ramp up the supply of sustainable aviation fuel (SAF) at a reasonable price, chief executives of Airbus, Safran and Lufthansa argued at the Clean Aviation for a Competitive Green Recovery in Europe online event hosted by the European Union's Clean Sky initiative on 22 April.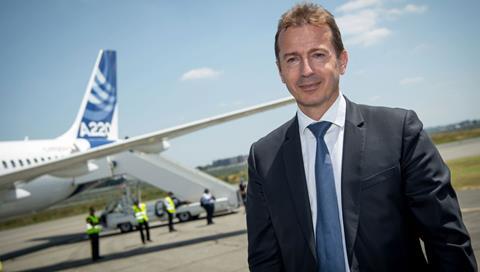 Airbus chief executive Guillaume Faury acknowledges that making air transport carbon-neutral is a "huge challenge". But he argues that the achievements made by commercial aviation since World War II in becoming a safe, reliable and affordable global mass transport system were "far more difficult" than decarbonising air travel.
Noting the concentration of aviation activity around airports, with virtually no ground infrastructure being required between the departure point and destination – versus swathes of land required for ground-based transport – Faury believes that flying is the "mode of transport of the future and not the past when it comes to protecting the planet".
The challenge is, he says, "we don't have much time". He adds: "[What] we need is a lot of support. We don't want to be blocked, to be slowed down in this transition. We want to be helped, to be encouraged."
Describing Europe's aerospace industry as "one of the few sectors where we are clear world leaders", he suggests that investment by the EU and national governments to make aviation environmentally sustainable are an opportunity to maintain the region's technological and industrial position. "It's a challenge, but it is a fantastic challenge if we take it positively," Faury says.
Safran chief executive Olivier Andries warns that "time is of the essence" if aviation is to meet its carbon-neutrality target. He describes 2035 – the service-entry target for Airbus's proposed zero-emission aircraft – as being "tomorrow", and says it will be necessary to skip an equipment generation in order to develop an "ultra-high-efficient" engine that delivers 20% fuel efficiency over the CFM International Leap turbofan, which Safran jointly manufactures with GE Aviation. Noting Safran's work on the open-rotor architecture – flight tests of which are targeted for 2025 – he says: "We need to go the disruptive way."
Andries sees the recovery from the pandemic as a "formidable opportunity" to put aviation on a new, green footing, but adds: "We need public support… from the EU to foster the additional effort and resources that we will have to put in place to get there."
New technology development alone will not be enough to achieve the emission reduction objective. "We cannot wait until 2035… We need to act now on the existing fleet," Andries says. He argues that SAF must be part of the solution – as must be hydrogen in future. Andries sees both fuels as complementary means in the quest for zero emission air travel.
Noting that current-generation engines are certificated to be powered by fuel blends containing up to 50% SAF, Andries says "massive development" in order to ramp up SAF availability and bring down its price are a "necessity". Safran estimates that the cost of SAF is four times higher than conventional jet fuel. Full SAF employment on today's engines is in within reach from a technical point of view, he adds: "There is no technical barrier. It's easy."
Lufthansa Group chief Carsten Spohr estimates the cost of SAF is three to seven times higher than for fossil-based fuel. Recalling that the German airline group made an average €15 ($18) per-passenger profit over recent years while fuel cost stood at €45 per passenger, he asserts that SAF adoption, under current prices, would make the business model "unbearable". Even if the price were more acceptable, he adds that an airline the size of Lufthansa Group alone would use up the current global SAF supply in less than a week.
"It's obvious the price of these new fuels need to get much closer to available fossil fuels," Spohr says. He believes that SAF price reduction and increased availability cannot be achieved by market forces alone. "We need a co-operation with governments to bring it to that point," he says.
Beyond price, Spohr demands regulation to ensure that if SAF blending into fuel were to become mandatory within the EU, it wouldn't create commercial disadvantages between airlines in and outside the bloc. "We need to make sure that [using] even small percentages of this fuel doesn't distort competition on a global scale."
Noting competition in "New York, London, Istanbul and Dubai", Spohr sees EU-based airlines as being "significantly disadvantaged" under the bloc's current regulation. "Additional cost would obviously distort the competition [further]," he argues.
Replacing aircraft with new, more fuel efficient equipment is what Spohr describes as the airline's "largest lever" to reduce emissions. And here too, Spohr argues governments should step up support to facilitate progress in light of climate change. He says that while Lufthansa Group typically received, in recent years before the crisis, a new aircraft every other week, the delivery rate has halved because of the pandemic and new debt resulting from a €9 billion support package the group received in 2020 from governments in its home nations. "This [financial burden] of course will slow down renewal in our company," Spohr says.
CARROT NOT STICK
"We need to find smart incentives within Europe [and] the European Commission to support and accelerate that fleet-renewal programme," argues Spohr. Noting the current typical 25-30 year lifecycle of aircraft, he suggests that airlines, manufacturers and governments need to find ways of facilitating technological change before aircraft – and the financial planning behind them – reach the end of their life. "We need to maintain our dialogue with governments and the EU Commission to speed up that fleet modernisation."
Faury praises Clean Sky and the follow-up European Partnership for Clean Aviation as "very positive" programmes. But he complains that the EU is too regulated and doesn't encourage innovation by companies.
"The tendency is always to regulate, to put more handcuffs, to put [up] taxes, to try slow down the industry," Faury says. "I see in other places – the US or others – a different [approach], which is to try create the environment for companies to innovate, to be fast to invest, which is what I would like to see more in Europe.
"We can be faster with more investment. But we need as well to have an environment and ecosystem, a level playing field with the rest of the world where innovation is encouraged, where we are given the means to make [a] profitable business so we can invest, because we want to invest."
Both Faury and Andries believe that the Clean Sky programme, which ends in 2023, does not provide enough public investment to spur the developments required to achieve carbon neutrality. Andries describes Clean Sky as "extremely helpful" but says the programme's budget is "a bit tight". He thinks it necessary to broaden the programme beyond the EU to grow its scope and impact. "I think of the UK as an example," he suggests.
Faury thinks broader innovation and more investment – beyond aviation – are required if air transport is to meet its environmental targets. Noting a "very large" electricity requirement to produce SAF or hydrogen, he says it is "super important" to ramp up investment in generating electrical power in carbon-neutral ways. "We are in times where we spend a lot of public money for Covid-19. Let's turn that money into the decarbonisation of energy.
"If it's cheap decarbonised electricity – and there are means to do it that require huge investment now – we would have the means to have the decarbonised fuels. We can be much faster with more money."
There are no two ways about it – flying will become more expensive for passengers and likely taxpayers too. Spohr says that less than 1% of Lufthansa's passengers use the group's voluntary scheme to buy carbon credits or SAF to compensate their flight emissions. "One element of honesty we all need," Spohr says, "this will cost us money initially – and it has to come from somewhere. It can only come either from the consumer or the taxpayer or consumer or a mixture thereof."
This analysis is written by Michael Gubisch, part of Cirium's London-based reporting team