Electric vertical take-off and landing (eVTOL) aircraft developer Eve has secured a memorandum of understanding from FlyBlade India for potentially 200 eVTOL aircraft.
In addition to the aircraft, the non-binding agreement includes Eve's urban air traffic management software, as well as service and support, says the Embraer spin-out.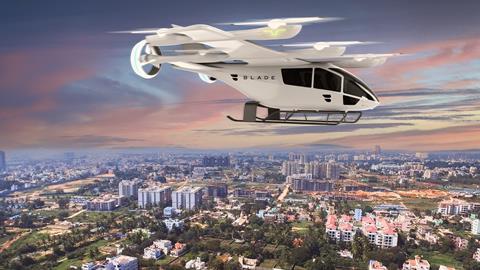 Initially, the two companies will conduct a three-month pilot project using helicopters.
Stock market-listed Eve was formerly a unit of Embraer while FlyBlade India is a joint venture between India's Hunch Ventures and US helicopter operator Blade Air Mobility.
FlyBlade's experience and data from operating helicopters in India will help inform Eve's efforts to promote urban air mobility in the country.
"We are thrilled about partnering with Blade India and pioneering the urban air mobility market in the country, which has the potential to be one of the largest markets globally," says Eve co-chief executive Andre Stein.
"This initial order will allow us to enter into service in India and further develop the ecosystem according to the community's needs. We look forward to offering the people of India a zero-emission UAM solution in the future that will be quiet, efficient, and accessible."