Air taxi developer Eve Air Mobility has identified a trio of systems suppliers for its proposed five-person electric vertical take-off and landing (eVTOL) aircraft.
The Florida-based company, of which Embraer owns a majority of shares, revealed on 6 November that Garmin will supply the aircraft's avionics and Germany's Liebherr Aerospace will provide flight-control actuators.
Eve also said St George, Utah-headquartered Intergalactic will supply the air taxi's thermal management system to maintain "an optimal temperature range for batteries and other electrical components".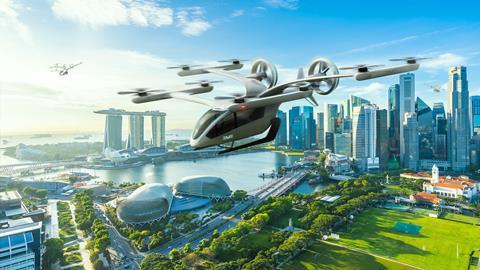 "Each of our suppliers undergoes a very stringent review that evaluates not only performance and quality of their product, but also their dedication to continuous improvement and customer support and satisfaction," says Eve chief executive Johann Bordais.
Garmin will supply its G3000 Integrated Flight Deck for Eve's aircraft, which features a large glass display that will integrate with Eve's flight-control systems.
"Tailored for the needs of eVTOL aircraft, the flight deck's intuitive touch-screen interface reduces pilot workload by providing direct access to a full suite of avionics capabilities," Eve says.
Meanwhile, Liebherr will develop electromagnetic actuators for the air taxi's fly-by-wire flight controls. The actuators will be powered by the aircraft's electrical system and "will ensure high performance, configurability and easier maintenance".
During the Paris air show in June, Eve said BAE Systems will provide batteries for its eVTOL, and that French company Duc Helices will supply rotors for the aircraft's eight lift motors and cruise propellers.
Additionally, Embraer and Japanese electric motor specialist Nidec formed a new joint venture called Nidec Aerospace, which will provide electric propulsion systems for Eve's project.
Earlier this year, Eve unveiled the final design configuration of its eVTOL, which will seat four passengers and one pilot. The start-up says it is on track to fly the first prototype of its developmental aircraft next year, and to have the air taxi enter service in 2026.
Embraer and Eve are planning to produce the aircraft at a facility in the Brazilian city of Taubate, nearby Sao Jose dos Campos.