One of the front runners in the electric vertical take-off and landing (eVTOL) segment, Eve Air Mobility, is on track to fly a first prototype of its developmental aircraft next year, and to achieve service entry during 2026.
Outlining the developer's recent activities, Eve co-chief executive Andre Stein in late May said it was close to making main equipment supplier decisions, before commencing prototype assembly work in the second half of this year.
"We have been engaging with suppliers since the very beginning of the project – now we believe we are mature enough to actually select the suppliers," he says.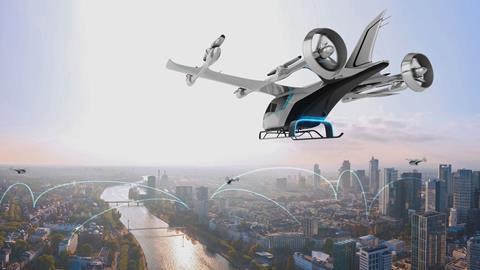 Eve also has already taken steps to de-risk its future production activities, with an industrialisation plan prepared following a collaboration with Porsche Consulting, which looked at factors including supply chain management.
Ground-based tests have recently been conducted on the eVTOL aircraft's lift and cruise propulsion system, which will employ eight rotors for vertical flight and two pusher propellers during wingborne operation.
Using a propeller rig, Eve says it assessed aerodynamic performance employing "multiple models to improve efficiency and reduce sound footprint and operating costs".
It also has evaluated the performance of the design's vertical lift rotors at flight transition speeds, by employing an adapted truck operating on the runway at Embraer's Gaviao Peixoto site in Brazil.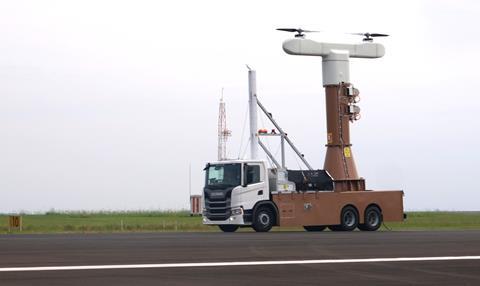 "The findings from the propeller and truck-mounted rig [tests] are being used to increase the fidelity of the flight simulator and fly-by-wire system," Eve says. This work is also being supported with the results of windtunnel tests performed in the first quarter of this year by RUAG in Switzerland. Stein says simulator-based flights of the design also are helping "to develop our flight control laws".
Additional work has included completing the development of prototype urban air traffic management (ATM) software, in collaboration with Embraer's air traffic control subsidiary Atech.
Eve says it has been "conducting advisory groups with partners to ensure that [ATM] software development aligns with their needs", naming as examples Blade India, Ferrovial, and Halo Aviation.
It also hosted an inaugural infrastructure summit earlier this year, attended by 25 participants, including US regional and mainline carriers, helicopter operators and technology providers.
Stein notes that eVTOL operations will range from operations involving "a simple slab of concrete to a full vertiport with security screening".
Eve is 90% owned by Embraer, but was spun out into a separate entity by the airframer in late 2021. Stein notes that it is able to draw on its parent company's depth of engineering talent, which he argues differentiates it from other players in the eVTOL industry.
"Eve has around 150 people, and we have close to 300 engineers from Embraer engaged on the project right now – it is an advantage that we can flex that up and down," he says.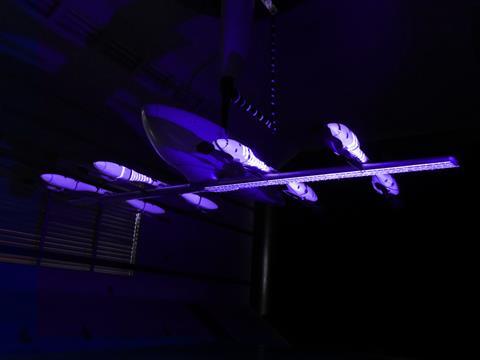 As of late May, Eve had secured letters of intent for up to 2,770 of its eVTOL aircraft.
"Today, we still have a very good cash position," Stein notes, with a series of successful financing rounds meaning that it has enough reserves to drive the programme through 2025.
The company's certification and entry into service objective is a "realistic target", he argues, while noting that the company has held firm on its schedule, as multiple other developers who had been aiming to bring their products to market before Eve have extended theirs.
Flown by a single pilot, the Eve vehicle will be able to carry four passengers at service entry, while its capacity could later rise to six, if uncrewed operations secure approval. It should enter use with a range performance of 54nm (100km).
Key regulatory decisions have yet to be reached about eVTOL operations, such as around the level of experience that pilots will need to operate the platforms.
Eve is engaging with regulators in Brazil, Europe and the USA, and Stein suggests that the aircraft could be flown by trained helicopter or fixed-wing pilots, and also by those new to the industry.
"It's a fly-by-wire aircraft, so it's simpler," he notes. "You have a throttle and a sidestick, and fly a lot of the mission in the cruise."
Speaking during Embraer's pre-Paris air show media tour near Lisbon, Portugal, he suggested that new pilots could begin their careers by piloting AAM aircraft, before moving to fly with airlines at an entry level after gaining sufficient experience. "We can create a pipeline of new pilots," he says. "Some of our customers are really excited about that."
Eve will exhibit its cabin mock-up at the Paris air show, and offer visitors an early "flight experience" via the use of virtual reality headsets. Stein will also be speaking at several related events about the eVTOL opportunity, including the ISTAT Sustainability Symposium, taking place in the French capital on 19 June.

Craig Hoyle joined Flight International in 2003, and has edited the now monthly title since 2015. He has reported on the UK, European and international military aviation sector for more than 25 years, and produces our annual World Air Forces directory.
View full Profile