Electric aircraft developer Eviation is unlikely to be flying its current Alice prototype again before the arrival of a certification test article in 2025 – almost three years after the battery-powered aircraft's first flight.
Eviation conducted the Alice's maiden sortie in September 2022 – a flight that lasted just 8min – and since then the aircraft has remained resolutely earthbound.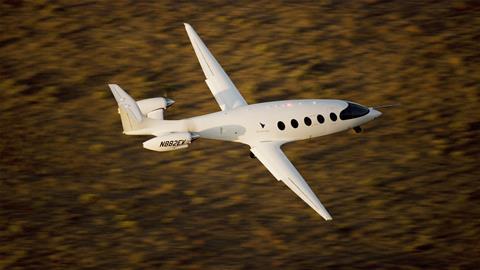 But, insists chief executive Gregory Davis, the Washington state-based firm is unconcerned with this situation.
That first flight generated terrabytes of data, he points out, and another sortie would only be considered if additional testing was necessary.
"What we have been doing is focusing on what we need to get the airplane to the next stage. We don't need to fly the aircraft again and again [at this point] – let's focus on advancing the design," says Davis.
Although the Alice remains in an airworthy condition and could be flown if required, Davis says the developer is making sure "we are expending resources where we need to".
"Flying the airplane right now would have absolutely no impact on the certification process or the timeline for getting it into service."
Over recent months, Eviation has been honing the aircraft configuration: analysing which parts it can take to a certification-suitable model and which need replacing or updating, for reasons of obsolescence or producibility, for example.
"We are four and a half years before service entry – it gives us one more opportunity to look at everything," he adds.
"We are making sure we have the most modern parts on the planes we will be delivering to customers."
A certification-conforming aircraft will make its debut in late 2025, leading to approval and service entry around two years later.
Eviation is also in the process of finalising the supply chain for the Alice and has issued requests for information covering all its major components.
Davis says the only confirmed supplier for the production phase is Parker Hannifin, which has provided six work packages on the prototype, including cockpit controls and the thermal management system.
Other aerospace tier ones, such as Honeywell and GKN Aerospace, who have contributed to the Alice prototype will have to respond to the tender if they want to secure a position on the production model. That includes electric motor maker Magnix – a sister company under Clermont Group ownership – and whose propulsion system equips the prototype.
Magnix has no guaranteed place on the final version, says Davis: "We are going to best motors for the aircraft – it has got to be the right engine."
Eviation is also considering various options for Alice manufacturing, although Davis says aircraft will likely be shipped near to customers as a kit before final assembly by one of Eviation's service partners.
Davis insists the firm is seeing "global interest" in the aircraft; Eviation's backlog for the Alice now tops $4 billion and includes over 500 aircraft – a figure that has grown by around 400% over the last year.
Those tentative commitments will be firmed up over the next 18-24 months as the aircraft progresses through its design and development, he says.
Although Clermont Group owns a 70% stake in Eviation, the developer is currently engaged in its Series B funding push. Davis declines to be drawn on how much it is seeking to raise, however.