Urban air mobility (UAM) services promise to "democratise" intra-city travel thanks to operating costs which are a "small fraction" of those of a helicopter, a leading developer claims.
Max Fenkell, policy and government affairs lead at electric aircraft start-up Joby Aviation, says that although initial passenger fares will be "in the Uber Black-type price range" – the service's high-end option – manufacturers will bring the cost of their air vehicles down, in turn enabling fares to fall to that of a regular cab ride "and hopefully doing that as quickly as possible".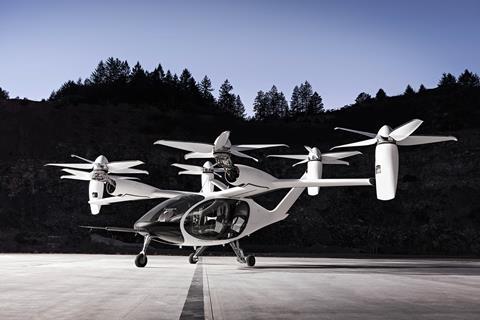 Asked whether the sector required a price cap to ensure accessibility, Fenkell, speaking during a FIA Connect webinar yesterday, said that it is in the UAM industry's own interests to keep prices low.
"From our standpoint the only way it works is if it scales and is affordable and accessible and it's a democratised form of transport."
That will be possible thanks to the low operating and maintenance costs of electric air vehicles, he says, pointing to the "simplicity" of its design.
Compared with a helicopter "we can operate at a very small fraction of the cost due to the nature of electric the maintenance, the operating, and ultimately how our planes function", he says.
The introduction of electric vertical take-off and landing (eVTOL) aircraft will create "this democratized, accessible form of travel and I think all of us across the industry are committed to doing that", Fenkell says.
Joby hopes to achieve certification for its four-passenger vehicle in 2023, launching commercial operations the following year.
Fenkell says although the battery-powered aircraft produces zero emissions in operation, Joby is focused on minimising its environmental impact throughout the vehicle's lifecycle.
That includes trying to ensure that the electricity to charge the aircraft is from renewable sources, plus ensuring its production processes are "as close to net-zero as possible".
Additionally it will work to identify secondary or tertiary uses for its batteries once they are no longer suitable for aviation applications "to answer the lifecycle emission picture really well".