Developers of next-generation electric vertical take-off and landing (eVTOL) aircraft are taking the news that the Federal Aviation Administration (FAA) is reviewing the certification requirements for the aircraft in their stride.
That said, the new specifications, which were initially reported by The Air Current earlier this week, could make it more difficult to find pilots for the vehicles once they enter commercial operation, planned for later this decade.
Embraer's Eve, which was spun off to become a publicly traded company earlier this week, says that through its continued partnership with Embraer, it has "decades of experience working with the FAA and other regulators in developing new aircraft that adhere to new and changing regulatory regimes".
"We had always expected that regulations for this new aviation segment would evolve. Our delivery plans took this into consideration," the company says.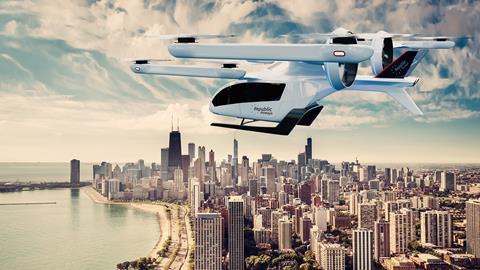 Palo Alto-based Archer Aviation echoes that sentiment, saying it does "not anticipate the latest planned changes having any material impact on our certification timelines".
"As a company pioneering a new form of transportation, we welcome the efforts of the FAA to provide a framework around the design and manufacture of an aircraft that is safe and approved for commercial use," Archer adds.
The FAA responded to the initial reports that its primary goal in shifting the way it certifies these new vehicles was around pilot training. That means potential eVTOL pilots may need to spend more time, effort and money in getting additional ratings and certificates, and put even more pressure on the professional pilot shortage.
"The FAA is modifying its regulatory approach to enabling powered-lift operations including the certification of powered-lift [aircraft] and the pilots who operate them," the FAA tells FlightGlobal on 9 May.
"The change is part of the agency's efforts to safely and efficiently integrate new types of aircraft into the nation's airspace system, while providing a simpler pathway for applicants to obtain the necessary FAA approvals."
However, the FAA points out that its current regulations were designed for traditional airplanes and helicopters, and did not "anticipate the need to train pilots to operate powered-lift [vehicles], which take off in helicopter mode, transition into airplane mode for flying, and then transition back to helicopter mode for landing."
In the short term, the FAA says it plans to type certificate powered-lift designs under its "special class" process, using the previously established "performance-based airworthiness standards" contained in Part 23 of US aviation regulations for small airplanes.
"This 'special class' process is designed to address the many novel features of unique aircraft such as these emerging powered-lift designs. This regulatory framework already exists, and this approach is consistent with international standards," the FAA adds.
In the longer term, the FAA says it will continue to develop regulations to accommodate the new aircraft, their operations, pilot training and the new markets these will serve.
"The agency is working with applicants who currently have projects under way to ensure minimal disruption to their certification timeline. We do not expect this adjustment to our approach will add delay to completing type certification process and receiving operational approval," the FAA adds.