The Federal Aviation Administration has proposed fining Boeing another $5.4 million for violations related to "slat tracks" installed on 178 737 Max.
The fine, which does not relate to flight control issues the grounded the Max, comes roughly one month after the FAA slapped Boeing with a $3.9 million fine for the same issue involving 133 737NGs.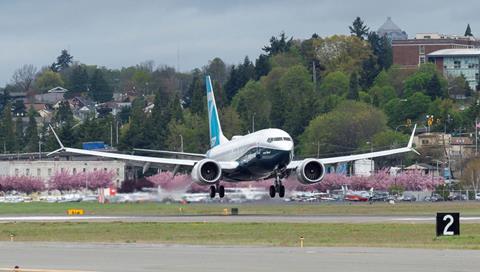 Boeing equipped the aircraft with slat tracks "weakened by a condition known as hydrogen embrittlement that occurred during cadmium-titanium plating", says the FAA.
Slat tracks guide slats on the aircraft's wings. The FAA says Boeing inadequately oversaw its suppliers and submitted 737s for FAA certification while knowing slats failed a strength test.
A Georgia company called Kencoa Aerospace provided the slat tracks, which were plated by Southwest United Industries, based in Washington state, the FAA says.
Southwest United shipped the slats to Spirit AeroSystems, which provided them to Boeing.
The FAA already issued an airworthiness directive requiring airlines inspect slat tracks, and Boeing issued a service bulletin.
"We will ensure that all inspections and any necessary part replacements are performed on all 737 Max before they return to service," Boeing says in a statement to FlightGlobal. "We have not been informed of any in-service issues related to the slat tracks themselves."