Lilium has moved a step closer to approval of its Lilium Jet, having agreed the certification basis for the electric vertical take-off and landing (eVTOL) aircraft with the US regulator.
Receipt of the Federal Aviation Administration's (FAA's) so-called G-1 Certification Basis, disclosed on 26 June, adds to a similar agreement with the European Union Aviation Safety Agency (EASA), which was granted in 2020.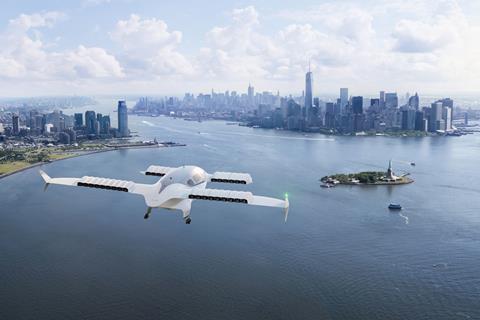 It makes the Germany-headquartered firm the only developer to have obtained a certification basis for a powered-lift eVTOL aircraft from both the US and European airworthiness authorities.
"This is a major step towards our goal of achieving early certification of our aircraft in key markets to support a worldwide entry into service," says Alastair McIntosh, Lilium chief technology officer.
"We are grateful to have found great partners on both sides of the pond to electrify the skies."
Lilium and EASA will now provide feedback to the US regulator prior to the G-1 being opened up for public consultation.
Lilium still expects to receive certification for the Lilium Jet in time to begin "global operations" in late 2025.
It recently began flying a second pilotless, scaled demonstrator at a facility in southern Spain. Its first type-conforming aircraft is due to fly next year.
Lilium currently boasts a backlog of 745 aircraft, having added to the total during last week's Paris air show with a tentative 100-unit agreement with Shenzen Eastern General Aviation.
First to be delivered though will be the VVIP-roled Pioneer Edition, of which it is making 50 aircraft available. To date, Lilium has taken 21 deposit-backed orders for the variant and hopes to secure commitments for the remainder "by the end of the year", said chief commercial officer Sebastien Borel, speaking at the show.
Meanwhile, it is working to convert the rest of the backlog to firm orders. "As for the rest, every agreement has a different flavour. Every single one is progressing really well towards a firm contract," says Borel.
In addition to the VIP market, Lilium is also working to increase its airline customer base beyond previously disclosed agreements with Brazilian carrier Azul and Saudia and is seeking partnerships in every region, says Borel.
Further out, Lilium is also still considering operating its own network of the aircraft: "It's something I believe will bring tonnes of value… but not straight away," says Borel, who identifies a requirement to first "work on working capital" through customer sales.
And although the six-seat Lilium Jet is yet to enter service, the company is already contemplating its next development project. Borel cites its technical know-how around the full-electric powertrain as a key step.
"Once we have mastered this we could take this expertise and apply it to a different design, either a larger aircraft or a different type of application. But we are still in the process of deciding what the next step is," he says.
"We will have to make a choice in a few years whether to continue the same platform or to change to something absolutely new."

Dominic Perry is deputy editor of Flight International but also contributes extensively to flightglobal.com. Although specialising in the coverage of the helicopter industry, he has written on most topics in aerospace – be they commercial, defence or business aviation. In addition, there has been an increasing focus on the decarbonisation of the industry and zero-emission flight initiatives.
View full Profile