Rolls-Royce will release a newly designed third-stage turbine wheel for its M250-C20F turboshaft engine by the end of the year, which will have improved strength and tolerance to fatigue cracking.
The modification was disclosed by the Australian Transport Safety Board (ATSB) in its final investigation report into an engine failure aboard an Airbus Helicopters AS355 F1 on 12 March 2018.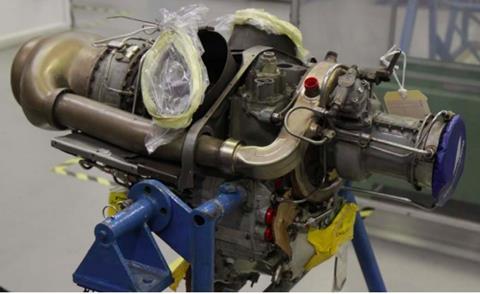 Investigators determined that cracking in a third-stage turbine blade was the root cause of the failure of light-twin's right-hand powerplant.
The ATSB notes in the report that the "rapid…progression" of the cracks was likely caused by a momentary dwell in the speed avoidance range.
Operated by aerial cinematography company Rotor Head, the helicopter (VH-SEV) was hover-taxiing with one pilot and one passenger on board from a hangar to the maintenance facility at Bankstown Aerodrome, New South Wales, when the failure occurred.
As the skids touched the ground on landing, the pilot reported hearing a loud squeal from the helicopter's right side.
He also observed the engine gas generator speed drop to 55%, and the right-hand engine chip light illuminate. He then noticed smoke coming from the right side and shut down the engine immediately.
Mechanics from a nearby workshop ran out and extinguished the engine fire.
The ATSB notes that the helicopter sustained significant damage to the engine and minor heat damage to the surrounding structure.
R-R's failure analysis after the incident notes that 21 of the remaining 34 third-stage turbine blades were found to have crack-like indications on the trailing edge.

The engine maker adds that the "high-cycle fatigue crack progression only occurs when there is steady-state operation of the engine at a responsive wheel mode".
In its analysis of the incident, the ATSB notes that there were sufficient fatigue cracks to require the part to be removed from service "but [were] not detected during the last inspection" which took place less than two months before the failure.
"The size and nature of the cracks meant there was a low probability of detection using the specified inspection method," the ATSB states.
Other than a redesign of the turbine disc, R-R has also updated its operations manual to simplify the speed avoidance range, and "more clearly articulate the possible consequence of dwelling".
Since 1999, there have been nine reported in-service failures involving the turboshaft engines, which were previously manufactured by Allison.
"In each instance, at least one blade on the third-stage turbine [disc] liberated because of fatigue, resulting in an engine failure. Analysis showed similar crack morphology to that found on the third-stage wheel of VH-SEV," the ATSB states.
Cirium's fleet data indicates VH-SEV is a 35-year-old rotorcraft, and was delivered in June 1984 to Sabah Flying Club. Rotor Head bought the aircraft in December 2016.