The counterintelligence agencies of the United Kingdom and USA have issued a stark warning about the espionage risk the Chinese Communist Party (CCP) presents for western businesses, citing some examples in the aerospace industry.
In a joint statement by MI5 director Ken McCallum and FBI director Chris Wray, the agencies warn of the increasing threat the CCP poses to UK and US interests.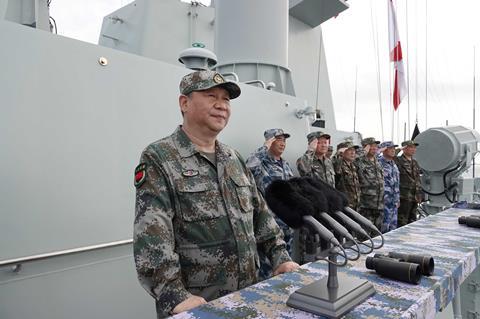 "The most game-changing challenge we face comes from the Chinese Communist Party," says McCallum.
"It's covertly applying pressure across the globe. This might feel abstract. But it's real and it's pressing. We need to talk about it. We need to act."
He stresses, however, that the focus of his remarks is the CCP.
"We're not talking about Chinese people – in whom there is so much to admire. We wholeheartedly welcome the Chinese diaspora's hugely positive contribution to UK life."
The joint remarks cover the broad scale of Chinese government espionage activities, and touch on the aerospace sector.
McCallum cites the example of UK aerospace firm Smith's Harlow, which entered a deal with China's Future Aerospace in 2017. After obtaining intellectual property about control procedures and training from the UK firm, Futures Aerospace abandoned the deal. Smith's Harlow entered administration in 2020.
McCallum gave another example involving a fraudulent recruitment process designed to glean information about military aircraft.
"In one example a British aviation expert received an approach online, ostensibly went through a recruitment process, and was offered an attractive employment opportunity. He travelled twice to China where he was wined and dined. He was then asked – and paid – for detailed technical information on military aircraft. The 'company' was actually run by Chinese intelligence officers. That's where we stepped in."
The FBI's Wray says the CCP is adroit at identifying key technologies, and then using "every tool in their arsenal" to steal it.
He cites an example of an insider at GA Aviation's joint venture in China, who facilitated an attempt to steal jet engine technology by providing network access to Chinese hackers.
McCallum, noting the business impact of Russia's invasion of Ukraine, also warns about the potential for China to invade Taiwan.
"Were that to happen, it would represent one of the most horrific business disruptions the world has ever seen. And if China does invade Taiwan, we could see the same thing again, at a much larger scale," he says.
"Just as in Russia, Western investments built over years could become hostages, capital stranded, supply chains and relationships disrupted. Companies are caught between sanctions and Chinese law forbidding compliance with them."