Vertical Aerospace has performed the first untethered flight of its VX4 technology demonstrator, with the aircraft powered solely by its batteries.
Conducted from the developer's test and evaluation centre at Kemble airfield in southwest England, the sortie saw the electric vertical take-off and landing (eVTOL) take-off, hover, manoeuvre and land.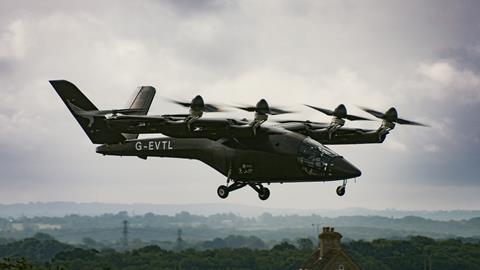 However, Vertical has not disclosed many details about the sortie, such as its duration, the exact manoeuvres performed, or even the date of the flight.
A short video released by the company shows the VX4 (G-EVTL) flying at low speed around 20ft above the Kemble runway with all eight of its prop-rotors in the vertical position.
Vertical says the aircraft reached speeds of 40kt (75km/h) during the tests, adding: "Our focus has been on assessing various aspects of the aircraft's performance.
"In recent weeks, we've carried out numerous flight tests, including time in energy-intensive hover mode. We're very pleased to report that the aircraft has surpassed our expectations."
Battery temperatures and state-of-charge "remained well within predictions for the duration of flights," the developer says.
The flight also took place without a pilot on board. "The company is planning further flight tests over the coming months with this aircraft – moving towards piloted flight," it states.
Announcing the first tethered flight of the aircraft in late September, Vertical said: "The company, unlike many of its competitors, decided to conduct its first flight tests with a pilot on board to prove it could meet the most stringent safety standards."
Piloted flight, it subsequently stated, "is crucial for reaching type certification which is why we have chosen to pursue this option early in our flight-test programme".
The UK Civil Aviation Authority (CAA) classifies the VX4 technology demonstrator as a "fixed-wing landplane (unmanned)".
Vertical adds: "As planned, the flight was conducted remotely by our chief test pilot." It says the uncrewed flights will allow it to progress towards the "next phase of our flight-test campaign, which we intend to be crewed.
"This has allowed us to move quickly through our thrust-borne campaign, de-risking our flight tests."
Vertical Aerospace hopes to achieve CAA type certification by the end of 2026 having pushed back the milestone in May this year.
This article has been modified with additional detail from Vertical Aerospace.

Dominic Perry is deputy editor of Flight International but also contributes extensively to flightglobal.com. Although specialising in the coverage of the helicopter industry, he has written on most topics in aerospace – be they commercial, defence or business aviation. In addition, there has been an increasing focus on the decarbonisation of the industry and zero-emission flight initiatives.
View full Profile