The UK's FlyZero initiative has begun investigating different aircraft architectures and powertrains as the project begins to hit its stride.
FlyZero was launched in 2020 with the aim of enabling zero-emission flights in the UK by the end of the decade. But alongside the air vehicle itself, the project will also build a business case for its operation and examine the industrial infrastructure required to bring it to market.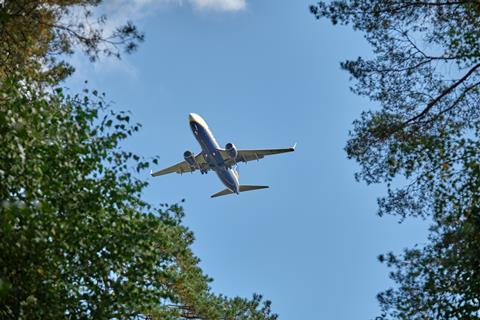 Speaking on a 5 May webinar, David Debney, FlyZero chief engineer, whole aircraft integration, said that around 15 different "scouts" – initial designs using a combination of different features such as energy sources or architectures – were being examined.
"These scouts are not designed to be taken forward but are designed to help us learn," he says.
While the number of scouts under study may increase, FlyZero's aim is to take forward two or three more detailed concepts into the next stage of the programme.
A total of 24 "technology bricks" form part of the overall study, ranging from different fuel or power sources, to powertrains, electrical distribution systems, and those in the wider ecosystem such as air traffic management.
Possible fuel sources include hydrogen and ammonia individually, or in combination. While batteries are one of the technology bricks under study, Debney acknowledges that they are unlikely to improve quickly enough to meet the power and energy needs of commercial aviation.
"In the 2030 timeframe we do not think they are going to be quite good enough to get to the primary energy source requirement," he says. However, they could be used to power secondary systems, he notes.
Although some technology bricks are obvious – propulsion systems, for example – FlyZero is also examining topics that may seem to have little to do with an aircraft's emissions, such as landing-gear.
"Some options could significantly change the weight of the aircraft – both the overall weight and the maximum landing weight," says Debney, with the latter a particular issue for fuels that do not "burn off in flight".
Chris Gear, project director, says the "main focus" of the research is on regional or single-aisle aircraft operating routes of 500-1,500nm (920-2,800km) based on the feasibility of achieving zero-emission flights by the 2030 deadline.
Cutting greenhouse gas emissions from regional and short-haul operations will also have a larger benefit, adds head of sustainability Naresh Kumar, as they create almost 50% of aviation's carbon dioxide (CO2) output.
"So success for the programme will have a huge benefit to reduce CO2," he says.
While CO2 is FlyZero's main focus, it is also looking to cut other emissions, such as nitrous oxides, particulate matter and noise. Additionally, limiting the production of water vapour is another area of focus, given its role in the formation of cirrus clouds that can also have a warming effect on the atmosphere.
"We don't want to swap one problem for another," he says. "But we don't think it's going to be a major issue that we can't overcome. It is currently in our sights and we intend to manage it carefully."
FlyZero currently runs until the end of 2021. It is funded through the Aerospace Technology Institute, with the government paying the salaries of staff seconded to the project from their employers. Around 80 people are now working on FlyZero, up from 30 at the beginning of February.