UK government-backed initiative FlyZero is targeting next February for the unveiling of three concept aircraft that will address the challenges of zero-emission aviation.
These will be developed from the 27 "scout" aircraft revealed by the organisation last week. These are effectively initial studies designed to examine the potential of particular technologies, configurations, architectures or energy sources against criteria including payload, range, speed, materials, economics, operations and non-carbon dioxide emissions.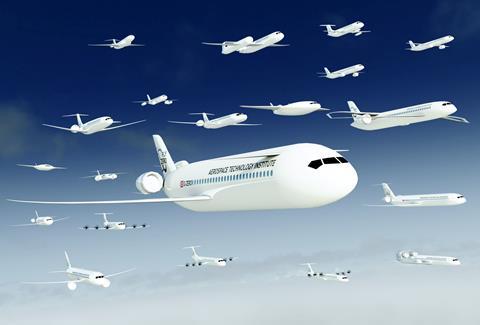 Chris Gear, project director, says the "creative" designs were an attempt to "determine what was the right scout for the range and capacity" required and were assessed using "a complex matrix system".
This allowed the team to highlight drawbacks with each design, as well as its advantages. For example, according to FlyZero's analysis, even with advances in battery technology, an all-electric 70-seater concept featuring a distributed propulsion system could only achieve a range of 500nm (926km). Batteries would represent one-quarter of the aircraft's 28.5t maximum take-off weight.
Another design, nicknamed "Calvin", is a twin-fuselage concept, with one of the two used solely for the storage of gaseous hydrogen. This would incur both drag and weight penalties, says FlyZero, cutting range with a 160-passenger load to 1,200nm. In comparison, an Airbus A320neo has a range of 3,400nm and can carry up to 180 passengers.
While none of the scouts will be taken forward in their entirety, many will feed key technologies into the concept aircraft designs, which will span the regional, single-aisle and mid-market segments.
"We are now focusing down on the three concept vehicles, developing them to [a higher level of] maturity so we can tell people why we think they are viable."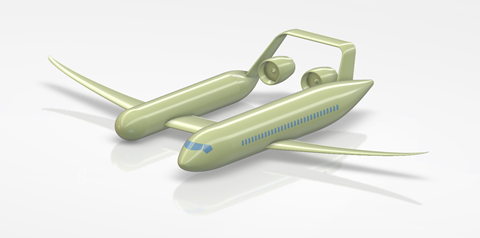 The trio of designs will be presented next February at the end of FlyZero's 12-month duration, and will also detail the challenges – whether infrastructural, industrial or technological – that need to be overcome if zero emission aircraft are to be introduced into service by 2030.
FlyZero is led by the Aerospace Technology Institute (ATI) and the project's findings will inform the ATI's next technology strategy document, which is due to be released next year.
Gear, speaking in a personal capacity, believes FlyZero should continue for another five years, allowing the initiative to begin testing some of the necessary technological bricks, eventually building to a flight-demonstration phase.
However, he points out that the UK cannot act in isolation, given the global nature of the aerospace industry.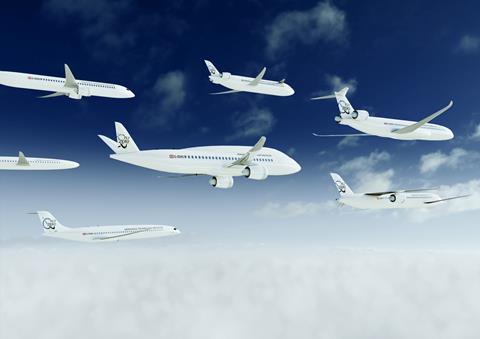 In addition, FlyZero has identified liquid hydrogen as having the highest potential as a future fuel, based on its high power-to-weight ratio and zero-carbon emissions.
The characteristics and performance of hydrogen, in both gaseous and liquid forms, were compared against those for batteries, ammonia and kerosene. Additional focus was also placed on the impact of the mass of the storage and distribution systems required for each on board the aircraft.
Although Gear acknowledges the significant technological challenges that need to be overcome to deploy cryogenic hydrogen, he notes that it is "the fuel that gives you zero carbon emissions".
"It's not going to be easy – but that goes back to what we are trying to do," he says.
FlyZero was launched in 2020 with the aim of enabling zero-emission flights in the UK by the end of the decade. Alongside the air vehicles themselves, the project will also build a business case for their operation and examine the industrial infrastructure required to bring them to market. Its staff of almost 100 have largely been seconded from industry.