UK clean aviation research body FlyZero has called for the UK government and aerospace industry to invest rapidly in the development of next-generation propulsion, fuel and airframe technologies or risk losing the country's prominent position in the global supply chain.
FlyZero – which has now concluded its year-long study into the feasibility of zero-emission flight – says that key innovations to enable hydrogen propulsion must be brought to technology readiness level (TRL) 6 by 2025 if they are to make their way onto the next wave of commercial aircraft.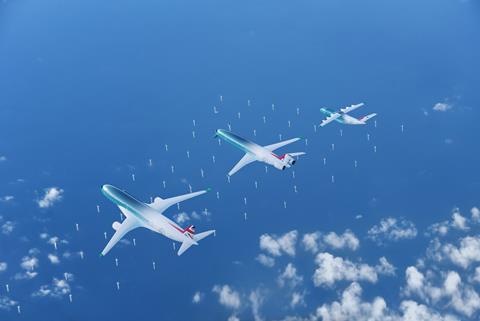 "The first hydrogen gas turbine powered aircraft may enter service by the mid-2030s. To win content on it, UK companies must be ready to demonstrate new systems by 2025," it says.
Without a concerted effort, the report warns, thousands of jobs could be at risk as the suppliers relocate their operations outside the UK.
The risk for UK suppliers is particularly acute as the country's specialisms – airframes, wings, fuel systems, thermal management, and turbine engines – are the areas set to be most affected by a switch to liquid hydrogen.
"All these elements would need to be redesigned for a hydrogen aircraft, presenting the UK with both a threat and an opportunity," it says.
"If the UK acts ahead or alongside other nations, it can lead the development of new technologies where it is currently strong and secure a greater share of activity."
Should the UK act now then it could potentially see its share of large commercial aircraft global market turnover rise from 12%, or £11 billion, in 2019 to 19%, or £36 billion, in 2050.
"Conversely, if the UK does not act, it will lose some of its market share as the industry transitions," the report cautions; market share could fall to 9%, the number of aerospace jobs could drop to 74,000 from 116,000 presently and "crown jewel technologies" could be relocated overseas.
"We have a short three-year window of opportunity in which to move and develop these new solutions," said Katy Milne, head of industrial strategy at FlyZero, speaking on a webinar to present the results of its work.
"If we don't move we are effectively withdrawing our workforce from the game."
The scale of the challenge can be seen from FlyZero's trio of liquid hydrogen-fuelled concept aircraft which address the regional, narrowbody and midsize markets.
While the regional aircraft uses fuel cells to power six electric motors, the two larger designs would be powered by turbofan engines burning liquid hydrogen.
Because of the volume constraints of the fuel – which even in its liquid state takes up more space than kerosene – dry wings will be required on the aircraft. This is a "new design space that requires a lot more exploration", adds Mark Whiller, chief airframe engineer on the programme.
FlyZero has a nine-point plan to address the future challenges, including: industry and government collaboration on research and technology activities and fostering international collaboration; the establishment of a cross-sector hydrogen technology centre; the fostering of strong links between the UK regulator and its counterparts in Europe and the USA on sustainability issues; plus the rapid roll-out of sustainable aviation fuel (SAF) in the 2020s and early 2030s "to deliver early decarbonisation".
Project leader Chris Gear says investment in both SAF and liquid hydrogen production and technology will be required for the UK to meet its carbon-reduction goals.
"Ultimately, an integrated approach is needed, and the UK must build strong links across global aviation with international partners to ensure we can play our role to secure future hydrogen technology.
"The global community has already launched several new projects to develop hydrogen aircraft technologies, with plans for ground and flight test. It is vital that the UK launches ambitious hydrogen projects or we will lose our position in the global aviation sector," the report concludes.
Output from FlyZero will be used to direct the future priorities for the UK Aerospace Technology Institute.