A team of European researchers is working to put the final touches on a 50-seat hybrid-electric concept aircraft that has been developed through a project funded under the EU's Horizon 2020 programme.
Coordinated by the University of Stuttgart, FutPrInt50 - Future Propulsion and Integration towards a hybrid-electric 50-seat regional aircraft – has also seen involvement from Cranfield University in the UK and TU Delft in the Netherlands, plus contributions from airframer Embraer's operations in Portugal and Brazil.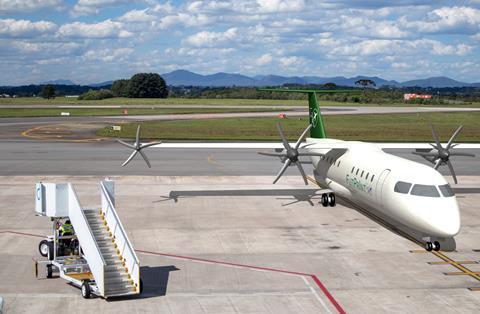 Running since the beginning of 2020, the project has now arrived at a concept aircraft that it believes is suitable for service entry from 2035 onwards.
Compared with many of the more radical concepts out there, the external appearance of the current design is relatively conventional: if features a pair of large electrically boosted gas turbines on the in-board section of the wing, supplemented by a pair of smaller electric propulsors on the wingtips.
But there are significant differences. For example, the wingtip-mounted electric motors also double as generators, allowing "energy harvesting" during certain flight phases. Power comes from a mixture of conventional gas turbines and batteries.
Now in its final six months, the FutPrInt50 team is working to complete its analysis of the key technologies involved, evaluating component-level maturity and development roadmaps, alongside likely integration challenges, says project coordinator Professor Andreas Strohmayer.
In addition, as a reference, the team has also designed a conventionally powered regional aircraft based around the engine technology that should be available in the 2040s.
"The gap [in emissions] performance will not be that big then, but we need to have an apples-with-apples comparison," says Strohmayer.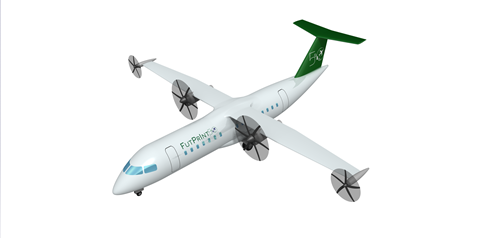 FutPrInt50 intends to publish its findings as an open-source resource for the industry to help accelerate the transition to climate-neutral zero-emission flight.
Strohmayer says a huge number of possible configurations were initially considered, based on different powertrains and energy sources, including hydrogen combustion and fuel cells. These were then whittled down to eight options before the current architecture was settled on.
"In our view this is the most promising [design] which can be compared against the reference aircraft," he says.
"Technology is converging into a feasible and certifiable aircraft for the 2030s."
FutPrInt50 has also sought input from the European Union Aviation Safety Agency, which is a member of its advisory board, to help advance the regulatory aspects of the design.
It is also seeking to connect with technology research or development projects being undertaken by other organisations such as the EU-backed Clean Aviation programme: "We need to be more or less on the same sheet of paper," says Strohmayer.
Closer ties with Clean Aviation, or FutPrInt50's exisiting links with Embraer, could also provide a route to seeing the aircraft – or at least key parts of it – come to life.
Other FutPrInt50 partners include the French CEA energy research commission, engineering consultancy ADSE in the Netherlands, Nicolo Cusano University in Italy, and the Belgium-based European Aeronautics Science Network.

Dominic Perry is deputy editor of Flight International but also contributes extensively to flightglobal.com. Although specialising in the coverage of the helicopter industry, he has written on most topics in aerospace – be they commercial, defence or business aviation. In addition, there has been an increasing focus on the decarbonisation of the industry and zero-emission flight initiatives.
View full Profile