UK parts supplier Gardner Aerospace Holdings saw turnover and profit slump last year as Covid-19 took its toll on the industry, but the company believes the closure of two domestic sites and the transfer of more work overseas has positioned it for recovery.
Detailing the impact of an "extraordinary year" on the group, accounts for the year ended 31 December 2020 – published on 2 October – show revenue dropped by 46.6%, to £116 million ($158 million) as the impact of production cuts instituted by Airbus and Boeing due to cratering demand for new aircraft cascaded through the supply chain. Pre-tax profit also plunged to a loss of £27 million, down from a £8.2 million profit in the previous year.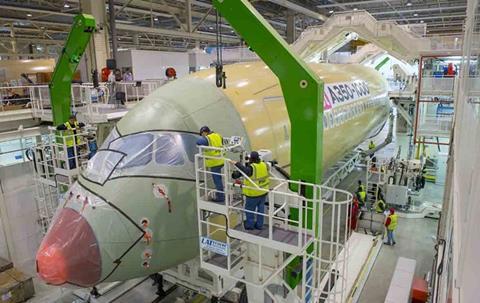 Faced with "increased uncertainty" from the second quarter as travel bans took hold, Gardner's directors instituted a "comprehensive planning exercise" in April 2020, basing its outlook on the then worst-case scenario of a full recovery in air travel not being achieved until 2024-2025.
A "conservative and prudent" demand forecast led the company to restructure its business, "accelerating" a long-term plan to move more work from legacy sites in France and the UK to lower cost locations in India and Poland, reducing the breakeven point.
As a result, plants in Hull in England and Broughton, Wales were axed in 2020 and 2021, respectively, contributing to one-off restructuring charges of £9.5 million; headcount also fell from 2,078 to 1,441.
Equipment transfers from the UK to sites in India and Poland enabled Gardner to "maintain pre-pandemic capacity and capability", it says.
"The company continues to prioritise investments in automated manufacturing capabilities to facilitate the build-rate increases that our customers are forecasting over the next 3-5 years.
"Having protected resource levels in Poland and India, Gardner has approached the recovery in FY21 with renewed confidence that it has enhanced capability and resources to enable the significant ramp in demand that is now forecast."
Gardner says it expects to see further consolidation in the market for detailed parts production driven by the desire of airframers and tier one suppliers to have "fewer and larger suppliers", it says.
"We expect this sector consolidation to be accelerated as we move into the initial phases of recovery in late 2021 and early 2022."
Banking covenants were also renegotiated to cope with the collapse in revenue and consequent effect on funding availability and additional lending facilities secured.
Volume and currency headwinds have continued into 2021, with revenue in the first half only 2.5% more than the final six months of the previous year, Gardner says. "But on a more positive note current industry forecasts are now more defined on the route to recovery to 2019 air travel levels, with growth from quarter four of 2021 through into 2022 being reflected in the group's orderbook."
It sees the recovery in air travel as being a question of "a when, not an if", and is preparing to increase output in line with forecasts over the next two to three years.
In addition, expansion into China will also benefit the group, it says. "More aircraft will be built in China, particularly as Comac build rates increase, and our Chengdu facility is well-positioned to support this increased demand for China-sourced aerospace manufacturing capability," says Gardner; it expects that site to achieve initial certification in late 2021.
Gardner is wholly owned by China's Ligeance Aerospace Technology.