Known for its enduring, no-nonsense, short take-off and landing (STOL) Islander – an aircraft it has been building since the 1960s – tiny Britten-Norman might seem an unlikely trailblazer in commercial aviation's quest for sustainability.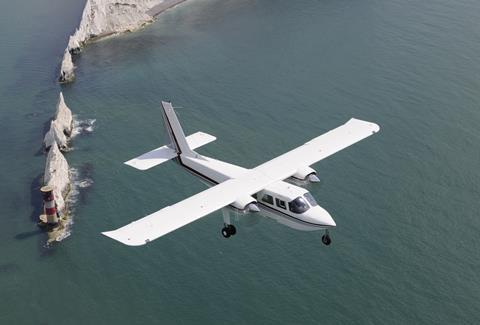 However, the UK's last surviving airframer is playing a key role in two government-backed technology initiatives to develop greener aircraft, and firmly intends to be "at the forefront of the electric aircraft revolution", according to its long-serving chief executive William Hynett.
One, Project Fresson, sees the Hampshire-based company working with a consortium headed by Cranfield Aerospace Solutions to develop a passenger aircraft capable of being powered by hydrogen fuel cells. A demonstration flight is planned for September 2022.
Another, Project HEART – it stands for hydrogen electric and automated regional transportation – aims to demonstrate an autonomously-controlled and hydrogen-powered Islander on essential routes such as those serving the thinly-populated far north of Scotland.
While Project Fresson initially focused on developing an aircraft powered by on-board batteries, that path was abandoned, and Hynett believes that hydrogen-based technology is the "game-changer" that will allow commercial aviation to achieve its zero-carbon goal.
That became clear last year, as the partners behind Project Fresson began to scope out the potential of hydrogen fuel cells rather than using batteries. "It started to make sense," says Hynett. "It takes away the need for charging. It takes away weight."
CORE OFFERING
Such is his confidence in Project Fresson's progress that Hynett believes a hydrogen-powered aircraft could be Britten-Norman's "core offering" by the end of the decade. "We are very comfortable that we could sell a hydrogen-powered aircraft in our market," he says.
That market comprises mostly tiny airlines and public sector-run entities – there are some 230 operators of the nine-seat Islander around the world – serving remote communities from North America's Great Lakes to the Falkland Islands, and from the Scottish isles to Pacific archipelagos.
Island Airways is typical. The 76-year-old carrier serves Beaver Island, a settlement of around 600 people in Lake Michigan. In September, it will take delivery of a second-hand Islander sourced by Britten-Norman, its fifth, and a requirement driven by increasing tourist traffic, says the airline.
Aside from sightseers, the husband and wife-owned airline transports locals, mail and cargo, and provides a medical evacuation service. In winter, when Lake Michigan freezes, its operation becomes all the more vital. With ferries out of action, the 15min flight is the only connection to the mainland.
Another recent customer is the Falkland Islands Government Aviation Service (FIGAS), which accepted its fifth Islander, a new-build, last December. FIGAS has operated the type since the 1970s, performing air ambulance and environmental monitoring missions, as well as scheduled flights.
Of the roughly 1,300 Islanders produced over 56 years, 470 are thought to still be in service. Some 80% are powered by Lycoming O-540s; the remainder by Rolls-Royce B17 turboprops, which deliver a higher maximum take-off weight. Most of the latter are in government or special mission use.
Hynett believes a compact and simply engineered type like the Islander is "perfect" to pioneer tomorrow's green technologies such as hydrogen power. "Opportunities for-longer range aircraft will happen through the work we do in short-range," he says.
As well as collaborating on the green projects, Britten-Norman, which has Oman-based backers, has spent much of the pandemic period settling into new premises on the former RNAS Lee-on-Solent naval air base, now operated as a private airfield and aviation park by the local authority.
The company had been working from Second World War-era hangars since being evicted from its traditional home at Bembridge on the Isle of Wight around a decade ago, but moved into the modern, local authority-owned units just as the pandemic was taking hold in March 2020.
"Covid has not been a completely awful story for us," says Hynett. Although MRO activity has dipped and a target to be assembling up to four aircraft per year for the commercial market is on hold, the crisis has driven up demand for domestic tourism, and hence for pre-owned Islanders, he says.
However, as they also have for much larger aviation companies, Hynett concedes that pandemic-related travel restrictions have made it difficult to visit most of the company's far-flung customers, either to discuss sales or to carry out repairs.
The company has a Miami-based sales and service operation, but Hynett – who is formally in charge of the entity, and maintains a local apartment – has not been able to visit for 15 months. "My car's battery is flat and the tyres are square," he says.
The focus on the civil market – a sector Hynett admits the company had allowed to "wither a bit" – followed a relatively lucrative spell for Britten-Norman, when it had a contract to supply 10 Defender variants for the UK Ministry of Defence, and maintain them during service in Afghanistan and Iraq.
With production at between one and five new aircraft per year, Britten-Norman's main business for now remains MRO and brokerage – sourcing used aircraft for customers, and usually updating them with new interiors and avionics at Lee-on-Solent.
KIT CONSTRUCTION
New aircraft are built as kits by Britten-Norman's long-standing partner, Bucharest-based Romaero, transported by truck, and assembled. Until 2010, Islanders were flown "green" to Bembridge, but this caused more problems than it solved, as aircraft had to be registered too early, says Hynett.
Hynett has considered bringing production in-house, but says the labour rates in Romania for a type that is largely hand-built from metal structures make such a move unviable. "We could automate it, but I can't see a scenario where the volumes would justify the investment," he adds.
While the Islander remains a no-nonsense aircraft, Hynett admits that customer expectations have changed, just as they have with cars, where motorists are no longer prepared to accept the "idiosyncrasies" of a budget brand.
To this end, he is looking at launching a new interior for the aircraft, although he rules out uprating to a full Garmin 1000 integrated glass cockpit, instead offering less expensive Garmin options. "We would fit a Garmin 1000 if our customers asked for it, but they don't," he says.
Hynett has not yet settled on the platform for a hybrid-electric or fully hydrogen-powered Islander. As well as the turboprop version, Britten-Norman offers 194kW (260hp) and 224kW variants. Its offering is likely to be a "customisation of one or two variants to create the optimal chassis".
Other questions include whether to opt for a liquid or gas hydrogen system. Hydrogen in liquid form will provide more range, but require a heavier airframe. "The most important consideration is that we mustn't lose our STOL capability. That's what our customers tell us is the bottom line," he says.
Britten-Norman may have been offering essentially the same design for six decades, but the company has been a disruptor since former de Havilland trainees John Britten and Desmond Norman devised their simple transport piston twin that could be used on short runways, says Hynett.
Britten-Norman innovated 15 years ago when new compact and lighter surveillance equipment suddenly made it possible for much smaller aircraft such as the Islander to be developed into cost-effective special mission platforms, and the Defender variant was born, he says.
Its bet on hydrogen power is its latest challenge. "It will be a long journey – the regulators have no way at the moment of certificating an electric aircraft," says Hynett. "But there is a clear political agenda when it comes to aviation's emissions. Fail to go down this road and we'll be left behind."