The head of Germany's BDLI aerospace trade body is warning that many of the country's smaller suppliers could go out of business unless Airbus can maintain at least half its pre-crisis output over the next two years.
Germany's sector has thrived on the back of Airbus's commercial growth, with around a third of its production in the country, but Volker Thum, managing director of BDLI, says that is now threatened by the coronavirus outbreak.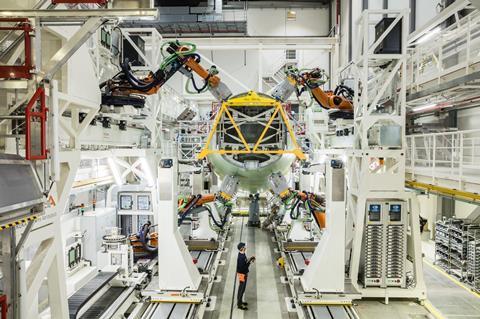 "Unless we can guarantee a minimum delivery level for Airbus, a whole industry that has been built over 40 years will collapse. If we don't get to that minimum level – 50% for widebodies and 60% for narrowbodies – we are finished," he says.
Thum says many Airbus suppliers have been shielded from major cash flow problems during the initial weeks of the crisis because the airframer's terms mean it is paying now for deliveries made at the beginning of the year.
However, these payments will start to fall away within 90 days, he says, so there are "only a few weeks left to establish a plan".
In addition, many companies are facing immediate bills for raw materials such as carbonfibre resin, titanium, and aluminium that they have ordered up front. Businesses have also been encouraged to invest in machinery to meet higher demand from Airbus, and have heavy interest payments on their borrowings, he says.
Thum, who spent 25 years with Airbus before joining BDLI in 2015, says a priority for small- and medium-sized enterprises is to "keep skilled people on the payroll" as orders dry up. Otherwise, he says, it will be difficult for them to ramp-up again when demand comes back.
Government initiatives to pay around two thirds of the salary of furloughed workers, and to offer state-guaranteed loans have softened the blow, he says.
Several prominent German companies have announced production cuts since the onset of the crisis. Engine systems maker MTU began a "gradual restart of operations" on 20 April after a three-week suspension, initially with just a fifth of employees returning to work.
On 7 April, MRO provider Lufthansa Technik put 12,000 staff on short-term working until the end of August.