German researchers are analysing hundreds of gigabytes of acoustic data following a series of windtunnel tests analysing the interaction between engines and aircraft in different configurations.
Under the EU-funded DJINN (decrease jet-installation noise) project, led by Germany's DLR aerospace research institute, studies were conducted of the under-wing layout typical of commercial aircraft and of business jet-style tail-mounted engines.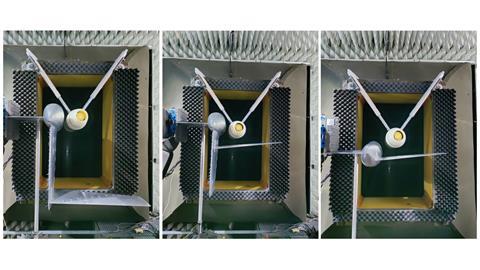 In the latter case, three different configurations were tested: standard T- and cruciform tails, plus a U-shaped tail where the horizontal stabiliser is used to muffle engine noise.
Researchers also examined how the surface of the aircraft fuselage is stressed by acoustic vibrations.
A variety of different microphone arrangements were used during the tests, conducted at the DLR's aeroacoustic windtunnel facility in Braunschweig, "to calculate the precise locations and direction-dependent intensities of the sound sources at the engine exhaust, on the fuselage and on the wing".
Separate microphone arrays were additionally employed to measure the sound dispersion in different directions.
In a separate series of tests aimed at commercial aviation, porous material was used for the aircraft's flaps with the aim of further reducing aircraft noise.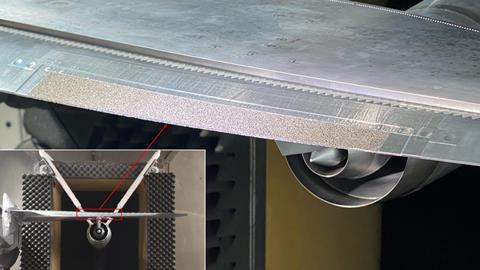 Previous DLR studies had indicated the "positive acoustic properties" of porous surfaces, potentially cutting noise at the flap's trailing edge.
"This was the first time that porous landing flaps have been tested in this configuration at high speed," says Christian Jente of the DLR Institute of Aerodynamics and Flow Technology.
"We have shown that complex models can also be made from these kinds of 'meta' materials, which gets us closer to industrial applications."
Evaluation of the 400 gigabytes of data collected is now in progress, with the 42-month project due to conclude in December 2023.
Partners in the effort include airframers Airbus and Dassault Aviation, engine manufacturers Rolls-Royce and Safran, alongside research institutes and universities from across Europe and the UK.

Dominic Perry is deputy editor of Flight International but also contributes extensively to flightglobal.com. Although specialising in the coverage of the helicopter industry, he has written on most topics in aerospace – be they commercial, defence or business aviation. In addition, there has been an increasing focus on the decarbonisation of the industry and zero-emission flight initiatives.
View full Profile