GKN Aerospace will later this year produce what it describes as the first load-bearing component to be made through additive manufacturing, as the UK-headquartered company eyes a rapid expansion of its capabilities in the space.
Developed at its campus in Trollhattan, Sweden, the part in question is a fan case mount ring (FCMR) for the Pratt & Whitney PW1500G engine which powers the Airbus A220.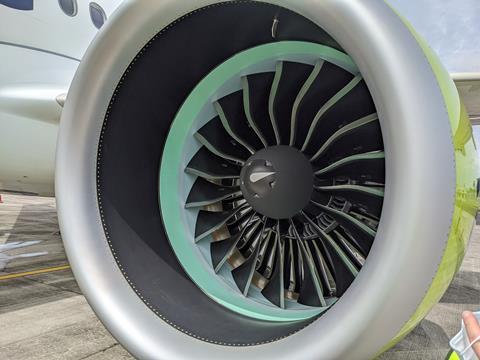 Certification of the additive-manufactured component has been achieved and serial production of the part will start in the fourth quarter of this year.
"It's a pretty big moment for us when that goes into production," said chief executive David Paja, speaking to journalists on 24 April.
The FCMR is currently made via a traditional subtractive process during which GKN machines away over 90% of a 440kg (970lb) titanium forging to produce the final sub-40kg part.
But instead the new process starts with a slim forged ring, adding the requisite flanges to the part through laser metal deposition by wire – a means of building the structure layer by layer.
GKN says the amount of material required to manufacture the part is reduced by 72% through the additive technology, which also cuts the overall CO2 emissions per component by 6.5t.
While production costs will be slightly lower, GKN sees "massive benefits in terms of quality, supply chain management and sustainability", says Paja.
Lead times will be drastically shortened, he says, as it eliminates several processes in the chain: "You are talking months to produce one of these parts, end to end. By bringing everything in house you are talking weeks."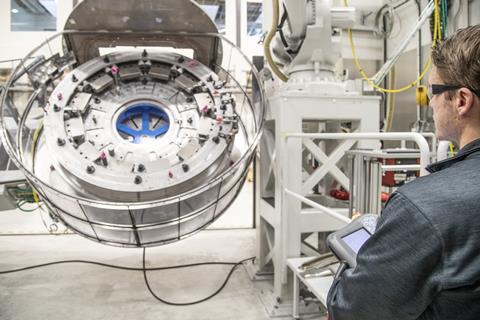 GKN's success in producing and validating the FMCR via additive manufacturing has "created a tipping point for us with our customers", says chief technology officer Russ Dunn.
"This is probably as simple as it gets in terms of what we are looking to do in the future because this is one process being deposited around a relatively simple piece of structure.
"But the depth of the process knowledge that's gone to get to that point can also be applied to a lot of other more complex things."
Next in line is an engine case for an undisclosed customer, with additional mounts, cases, ducts and other structures also planned, says Dunn.
"Over the course of the next three to four years we have a whole series of products that we have already agreed with our customers are on our roadmap," he says.
GKN's growth in the sector has been aided by the October 2022 acquisition of Gothenburg, Sweden-based additive manufacturing partner Permanova Lasersystem.
Dunn argues that a combination of three factors – process and material knowledge, industrialisation capabilities, and product design competence – "puts us in a unique position".

Dominic Perry is deputy editor of Flight International but also contributes extensively to flightglobal.com. Although specialising in the coverage of the helicopter industry, he has written on most topics in aerospace – be they commercial, defence or business aviation. In addition, there has been an increasing focus on the decarbonisation of the industry and zero-emission flight initiatives.
View full Profile