GKN Aerospace is hopeful that its participation in the Wing of Tomorrow research programme will see it eventually double the value of aerostructures content it provides on each Airbus narrowbody.
Hosting an investor briefing on 8 June, chief executive David Paja described the A320 family as the "most significant civil aircraft out there", representing more than 80% of the airframer's orderbook.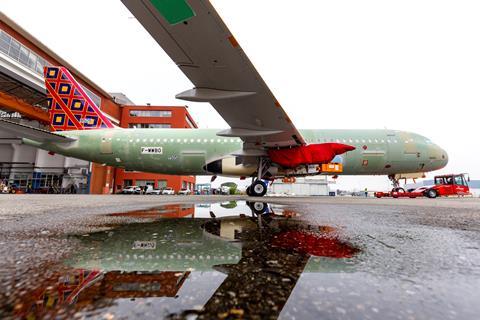 At present, GKN has £420,000 ($525,000)-worth of aerostructures content on each jet, including primary wing structures, the horizontal and vertical tail surfaces, the cockpit windows and electrical distribution.
However, the airframer is eyeing the switch to carbonfibre wings for its next generation of narrowbody jets.
"The challenge for today's composite structure on the wings is that it doesn't scale to narrowbody volumes," Paja says.
He notes that those issues are being addressed through new composite manufacturing techniques such as batch curing and modular assembly being validated through the Wing of Tomorrow effort – a research and technology programme led by Airbus and backed by the Aerospace Technology Institute.
In 2021, GKN delivered to Airbus the first 18m (59ft)-long spar made with this technology and two further such components will be shipped this year. Between 2023 and 2024, GKN will demonstrate high manufacturing rates, and by 2025 "we will be ready to start a specific production development programme".
"When this technology is fully adopted we estimate our potential content on the wing alone could be as high as £450,000, allowing us to target twice the content that we already have today on the A320."
While narrowbody deliveries are on track to exceed 2019 levels by 2023, the widebody recovery continues to lag. This change in mix has left GKN with "a lot of stranded [production] capacity", says Paja, "that adds to a legacy of overcapacity we had even before Covid".
To deal with that issue, GKN is in the period to 2025 cutting its manufacturing footprint from 19 to 11 sites in Europe and the USA, raising overall utilisation rates from 68% to 95%.
However, it is simultaneously growing its presence in China, and will in 2023 open a new aerostructures manufacturing site as part of a "ground-breaking" joint venture with Comac and AVIC. Revenues from the Chinese operation will hit £270 million by 2030, Paja forecasts.