GKN Aerospace has launched the development of a new hydrogen fuel cell powertrain which it believes could enter service in 2026.
The technology specialist will invest £27.2 million ($37.3 million) in the H2GEAR project, matching a grant awarded by the UK government-backed Aerospace Technology Institute (ATI).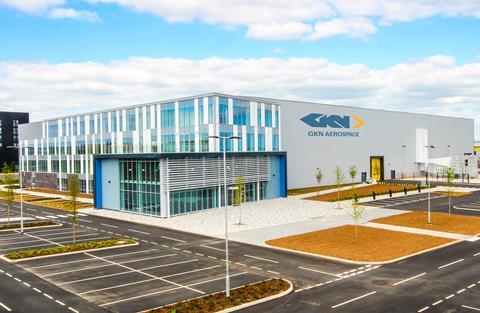 Work on the five-year programme will ramp-up shortly, says chief technology officer Russ Dunn, leading into a detailed design phase in 2022.
At the end of the five years, GKN will have delivered its solution into ground testing, says Dunn.
Its ambition is to demonstrate a "step-change in power density" sufficient to enable liquid hydrogen fuel cells to power an aircraft in commercial service. It is aiming for a power output of at least 1MW from the system.
GKN is initially targeting the 19-seat sub-regional market, but Dunn is hopeful that the technology could eventually scale sufficiently to power a 70- or 90-seater.
Dunn says that while 2026 is "certainly feasible for a demonstration in flight of the power capability" of its system, bringing it into commercial service by that date would require parallel development work with an aircraft manufacturer.
"There will be a requirement to translate [the ground testing] into a flight-validated capability," he says.
Discussions with potential airframe partners are already under way, albeit at a very early stage, Dunn adds.
H2GEAR will see GKN developing the entire powertrain, including the hydrogen storage, fuel cells, power management system and electric motor. However, a fully fledged propulsion system – including a fan or propeller and nacelles – is not required for ground testing, Dunn notes. Should additional components eventually be needed, these could be drawn from other GKN divisions, including its aerostructures and engines units.
Although other developers are already flight testing hydrogen propulsion systems using existing technology, Dunn welcomes the competition.
While these may offer a short-term solution, unless those systems advance significantly "they won't create a competitive product" that provides the aircraft range required, he argues.
Other partners in H2GEAR include fuel cell company Intelligent Energy, air compressor specialist Aeristech, plus the universities of Birmingham, Manchester and Newcastle. The project will be delivered from GKN's new Global Technology Centre in Bristol, which is due to open later this year.
Should the programme eventually transition to full-scale commercial production, up to 3,000 jobs could be created in the UK, GKN estimates.
Also included in the latest tranche of ATI funding is a programme led by Blue Bear Systems Research, which receives £2.8 million to develop a full-electric propulsion system for smaller, short-range aircraft.
A third project named in a Department for Business, Energy and Industrial Strategy press release about the grant awards – ZeroAvia's hydrogen-powered HiFlyer II programme – had revealed in December it would receive £12.3 million in ATI funding.