GMF AeroAsia hopes to capture a larger share of non-aviation maintenance work in the medium term, as it targets a return to profitability this year.
The MRO unit of troubled Indonesian flag carrier Garuda Indonesia, which widened its full-year operating loss for 2020, also vowed to improve its liquidity and fiscal position, after auditors flagged its ability to continue as a going concern.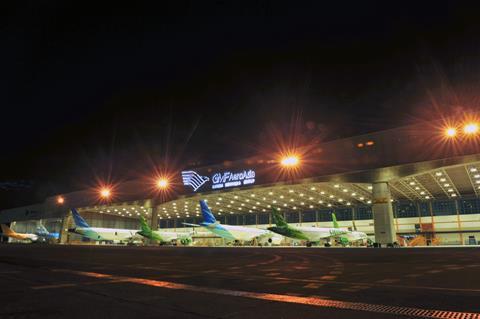 In its annual report released alongside its full-year results, GMF AeroAsia set a nominal target of a $22.8 million full-year operating profit, and a $4.5 million net profit, for 2021.
It explains that the projection was "based on the optimism that the airline industry will recover" this year, especially the domestic market in Indonesia.
The MRO hopes to return to the black through three ways: cost reduction, "particularly on employee costs"; revenue diversification, including tapping into business aviation and defence sectors; as well as greater cooperation with other players globally.
By 2024, GMF AeroAsia hopes to grow the share of non-aviation revenue to 20% of its total earnings — or around $500 million — up from the current 1%.
The MRO's upbeat forecast comes as it fell deeper into the red for 2020, amid the coronavirus pandemic, which has impacted business operations.
For the year ended 31 December 2020, GMF AeroAsia was $311 million in the red at the operating level. This compares to the $34.7 million operating loss it reported for 2019, and was worst than its target of around $45 million.
Revenue for the full year fell by 51% to $254 million, as flying activity fell drastically during the year. Expenses, meanwhile, grew 2% year on year to $565 million, led by a sharp increase in impairment and depreciation costs.
GMF AeroAsia also widened its net loss for the year, at $329 million, compared to $54.2 million in 2019.
The company ended the year with nearly $9 million in cash and cash equivalents, compared to about $27 million at the start.
Separately, GMF AeroAsia also released its financial results for the quarter ended 31 March, where it narrowed its loss-making streak.
For the period, it reported an operating loss of $4.9 million, compared to $32.4 million in 2020.
Revenue fell 41% year on year, to $62.8 million. GMF AeroAsia managed to halve its expenses during the quarter, at $67.7 million.
It reported a net loss of $8.7 million, compared to the $31.2 million net loss during the same period last year.
GMF AeroAsia chief executive I Wayan Susena says: "Amid high uncertainty and complexity, GMF is focusing on maintaining cash flow and liquidity. This step is realised through the management of receivables and cash in, delays in capital expenditure on non-priority projects, efficiency initiatives of operational costs and adjustment of operating expenses, renegotiation of vendor contracts, and debt restructuring with creditors for short- and long-term loans."
Wayan also responded to comments made by independent auditors, expressing confidence that its "recovery strategy" will turn the MRO's fortunes around.
""By focusing on sustainable financial recovery strategy, business diversification, and operational excellence for customers, GMF is expected to be able to maintain business continuity and realise its new vision as the most valuable MRO company in 2024," he says.