GMF AeroAsia plans to divest its engine MRO business and manpower services unit, as part of wider efforts to boost its earnings in the short term.
The Indonesian MRO operator disclosed the plans in an earnings presentation, where it swung back to profitability in 2022 on the back of an uptick in heavy maintenance and component MRO work.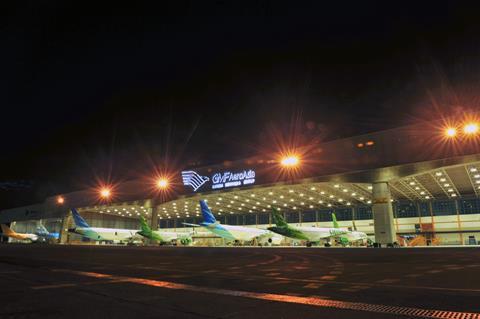 GMF, itself owned by national carrier Garuda Indonesia, did not elaborate further its divestment plans, but says it hopes to achieve revenue growth of 7% per year through 2026 through a series of measures. These include securing new, long-term "captive customers", as well as ramping up airframe and power services maintenance capabilities.
The MRO unit posted an operating profit of $24.9 million for the year to 31 December 2022, reversing the $94.5 million loss in the year-ago period.
Operating revenue for the full year rose 13% to around $239 million, with line maintenance, airframe and component services all improving on their earnings. Only engine MRO services saw a slight drop in revenue for the year.
GMF notes that global demand for MRO services continues to remain robust, as airlines work to return parked aircraft to service.
GMF also saw full-year expenses drop 30% year on year to $214 million. It posted a small net profit for the year, at $3.6 million compared to the $127 million loss in 2021.