UK developer ARC Aerosystems' efforts to bring next-generation passenger and cargo air vehicles to market have been bolstered by its selection for significant research and technology funding from Innovate UK.
ARC – formerly Samad Aerospace – will receive grants for three projects under Innovate UK's Zero Emission Propulsion initiative. Collectively valued at £2.58 million ($3.17 million), Innovate will provide funding for 70% of the total cost and will be shared by ARC and its partners, the company says.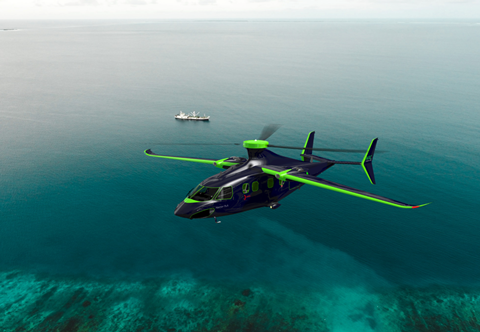 Crucially, the projects all have applications on ARC's development programmes, which range from its C-series unmanned cargo aircraft to the nine-seat Linx P9 vertical take-off and landing passenger aircraft.
ARC is leading one of the trio of projects, 3E-JTO, related to maturation of the 'jump' take-off technology to be used on the Linx P9, and a partner in the other two, both of which are attempting to develop hydrogen-electric powertrains.
Headed by sister company Samad Power, Project Ennoble will integrate a hydrogen micro gas turbine with a high-speed electric generator, while Qdot Technology will lead Project CHyPA's efforts to develop a hydrogen fuel cell powertrain. Both could be future solutions for ARC's C-150 or C-600 cargo drones.
While the C-150 and C-600 have been in development for some time, ARC only revealed the Linx P9 programme earlier this year.
ARC intends to adapt and modernise the already certificated Avian Gyroplane, a 1960s design, creating a nine-passenger VTOL aircraft boasting a range of 512nm (950km) and cruise speed of 180kt (350km/h).
Power comes from a hybrid system. Initially, this will comprise a hydrogen-fuelled gas turbine powering the twin wing-mounted pusher propellers, while an electric motor is used to spin up the 13m (42ft)-diameter main rotor. This is a process that will take around 2min and enables the aircraft's signature jump take-off.
As it leaves the ground the power to the rotor is cut and transition to forward wing-borne flight takes about 30s, says Seyed Mohseni, ARC chief executive. In cruise, the rotor remains unpowered but still provides some of the lift.
A second step will see the powertrain modified with the addition of a hydrogen-powered turbogenerator.
ARC had previously been developing a series of VTOL aircraft under the Starling brand, which featured ducted fans embedded in the wings for lift, coupled with a pair of tilting fans at the rear.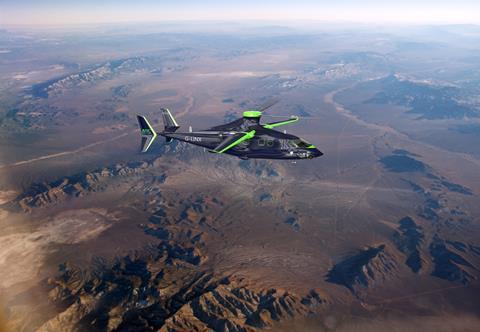 Flight tests of a one-half scale demonstrator of the e-Starling were planned but an analysis of the certification requirements concluded that the development costs would have been pushing $2 billion, says Mohseni.
And when factored against the targeted price for the aircraft and likely infrastructure constraints "we concluded that this was not a viable programme", he adds.
Instead, ARC sought alternatives that would deliver an "affordable, sustainable, safe and reliable" product, underpinned by the principle that "people should be able to get where they want to be within an hour."
Mohseni argues that the selection of the gyroplane concept simplifies certification: it will sit under European Union Aviation Safety Agency CS-23 or CS-27 regulations – those for commuter aircraft or large rotorcraft, respectively – rather than the more complex SC-VTOL rules, or the US Federal Aviation Administration's powered lift category.
"By using this technology we can achieve eight to nine seats. It will make it the biggest VTOL air taxi in the world," he says.
ARC has purchased the type certificate of the Avian Gyroplane from its US owner, as well as the sole remaining flying prototype. It expects to fly a scaled model of the Linx P9 next year, leading to a full-scale prototype in 2025, and certification and service entry in the 2028 timeframe.
Mohseni says the company has so far raised £8.5 million and has now kicked off its Series A funding round, targeting around £30 million. That figure should be sufficient to build full-scale prototypes of its cargo UAVs and the Linx P9.
In all, ARC will need around £150 million to bring the Linx P9 into production which is "comparable to similar-sized general aviation aircraft".
Mohseni says ARC's existing shareholders have been patient and are supportive of the shift in direction: "We are blessed with very opened-minded investors," he says. "They understand why we have made this radical change."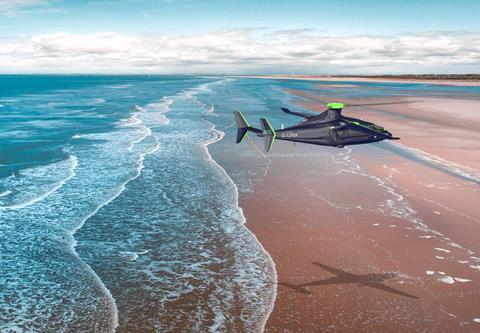 Dominic Perry is deputy editor of Flight International but also contributes extensively to flightglobal.com. Although specialising in the coverage of the helicopter industry, he has written on most topics in aerospace – be they commercial, defence or business aviation. In addition, there has been an increasing focus on the decarbonisation of the industry and zero-emission flight initiatives.
View full Profile