US start-up H2 Clipper will shortly launch a Series A funding round, as it advances plans to build a prototype of a revolutionary hydrogen transport and delivery system based around a 304m (1,000ft)-long airship.
Using gaseous hydrogen for lift and liquid hydrogen to run fuel cells powering five electric motors – two on each flank and one on the stern – H2 Clipper claims the airship will be able to transport a payload of up to 252t of cryogenic hydrogen. Range is projected to be 5,200nm (9,650km) or beyond.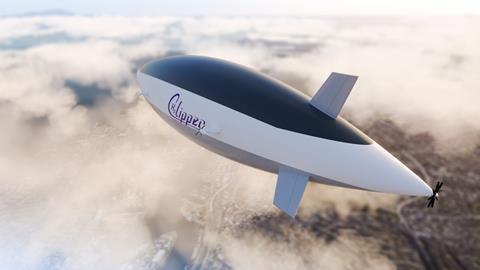 Speeds of 130-260kt (240-480km/h) should be achievable thanks to the low-drag design of the fuselage, which is also shaped to generate lift, says founder and chief executive Rinaldo Brutoco.
Brutoco, who has a finance rather than aviation background, sees a huge opportunity from the growth in green hydrogen production in the coming decades.
He says the industry's ability to increase hydrogen output will not be the limiting factor to its future use but "how to get that supply from where it's produced to market; the bottleneck is transportation".
H2 Clipper's airship is the solution to that problem, he argues, claiming the high speed and vertical take-off performance cannot be matched by other modes, particularly sea freight.
"We deliver the payload more efficiently: we can pick it up at a factory and deliver it direct," says Brutoco.
Construction of the subsystems for the 40%-scale prototype should begin in around nine months, with final assembly of the prototype starting in 2024 at an undisclosed location in the USA.
H2 Clipper is in the process of finalising that site, which features pre-existing hangars, with the company ready to move in next year. Subsequently, a greenfield location will be selected for the eventual production facility, also in the USA, he adds.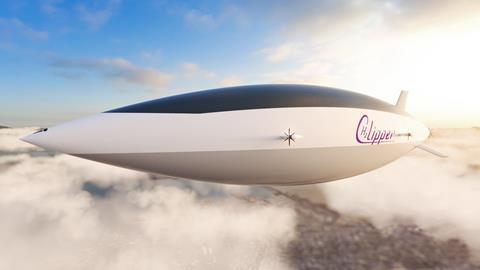 Massaquoi says H2 Clipper will seek a maximum of $50 million from the Series A funding round, and estimates a total requirement of $250 million to complete development of the prototype aircraft, with "significant capital needed" to scale up for production.
On top of the equity investments, the company will seek finance from a variety of sources, including collateralisation of assets, state and federal government grants or other incentives, plus customer deposits.
While the operating concept is revolutionary, Massaquoi sees nothing in the airship's construction or fuel cell-based propulsion system that will require costly additional development; meanwhile, talks are ongoing as H2 Clipper begins to firm up its supply chain, he adds.
First flight of the prototype airship should be in 2025, leading to customer deliveries of the full-scale vehicle by 2029. That schedule aligns with when planned green hydrogen production plants are due to come on stream, says Brutoco.
In addition to the transportation of gaseous hydrogen, the airship also has capacity for 45 20ft ISO freight containers, opening up another revenue stream for operators. H2 Clipper claims its airship will offer twice the payload capacity and up to 10 times more cargo volume than conventional freighter aircraft.
Brutuco is confident that the airship will offer the market a genuinely disruptive solution: "We spend all this time talking about what we put in the fuel tank, but to some extent the question is whether we have the right aircraft rather than the right fuel."
This article has been corrected to clarify a date in the 12th paragraph.

Dominic Perry is deputy editor of Flight International but also contributes extensively to flightglobal.com. Although specialising in the coverage of the helicopter industry, he has written on most topics in aerospace – be they commercial, defence or business aviation. In addition, there has been an increasing focus on the decarbonisation of the industry and zero-emission flight initiatives.
View full Profile